Old Africa books are well-told stories in the same tradition as the shorter pieces
our readers have come to enjoy from the pages of Old Africa magazine.
check out our titles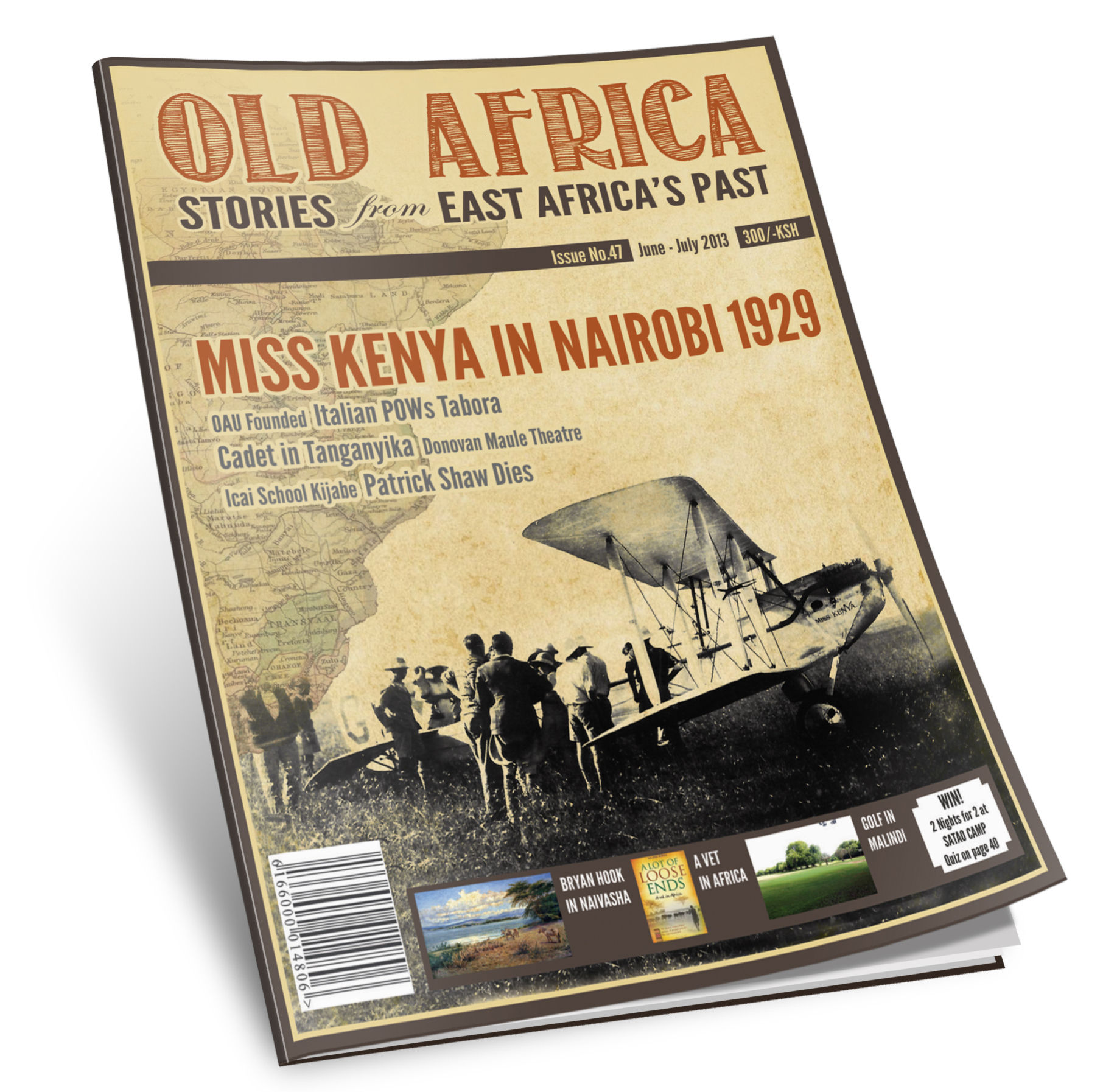 Old Africa magazine seeks to tell the story of East Africa's past through well-written stories and vintage photographs. Founded in October 2005, the first issue featured a story about the Royal Navy's ill-fated attempt to launch a naval presence on Lake Rudolph (now Lake Turkana) and an account of the Kedong Massacre. Since then the magazine has published stories and photos from Kenya's diverse ethnic groups – African, Asian and European – to preserve East Africa's history. 
---
Corkscrew Edwards Whether Charlie Edwards was nicknamed 'Corkscrew' because of his bandy legs, or whether the name referred to his erratic flying technique, is a moot point. Charles Hugh Edwards first came to East Africa in the late 1920s and he soon established himself as a character.  He was a keen horse racer: the first horse he owned being 'Make Haste.'  He claimed to have run in the Grand National and he was also the owner of 'Pretty Poll' in 1930, when he was living at Kakamega running a bar called the Corkscrew Inn. But Charlie misbehaved on the racetrack and was warned off for life.  One day he had a large bet with another man in Torrs Hotel that he could get into a racecourse and place a bet, which, of course, he was not allowed to do, since his ban prevented him from entering the racecourse. He went to GD Fleming and his wife for assistance. Fleming takes over the story: 'He had bought or borrowed a grey wig, an old dowager's hat covered in flowers, a long dress with high neck (boned), and a pair of high-heeled black buckled shoes and grey stockings, an umbrella and handbag. We had the difficult job of making him up with cosmetics. The powder would not stick to his large hooked nose, his lips were so thin there was no room for lipstick, and he had almost no eyelashes to black. His eyebrows were thick and bushy. We eventually succeeded, and I have never seen such a shocking sight. He looked like a drink-sodden, wicked old woman of about 70,...