Old Africa books are well-told stories in the same tradition as the shorter pieces
our readers have come to enjoy from the pages of Old Africa magazine.
check out our titles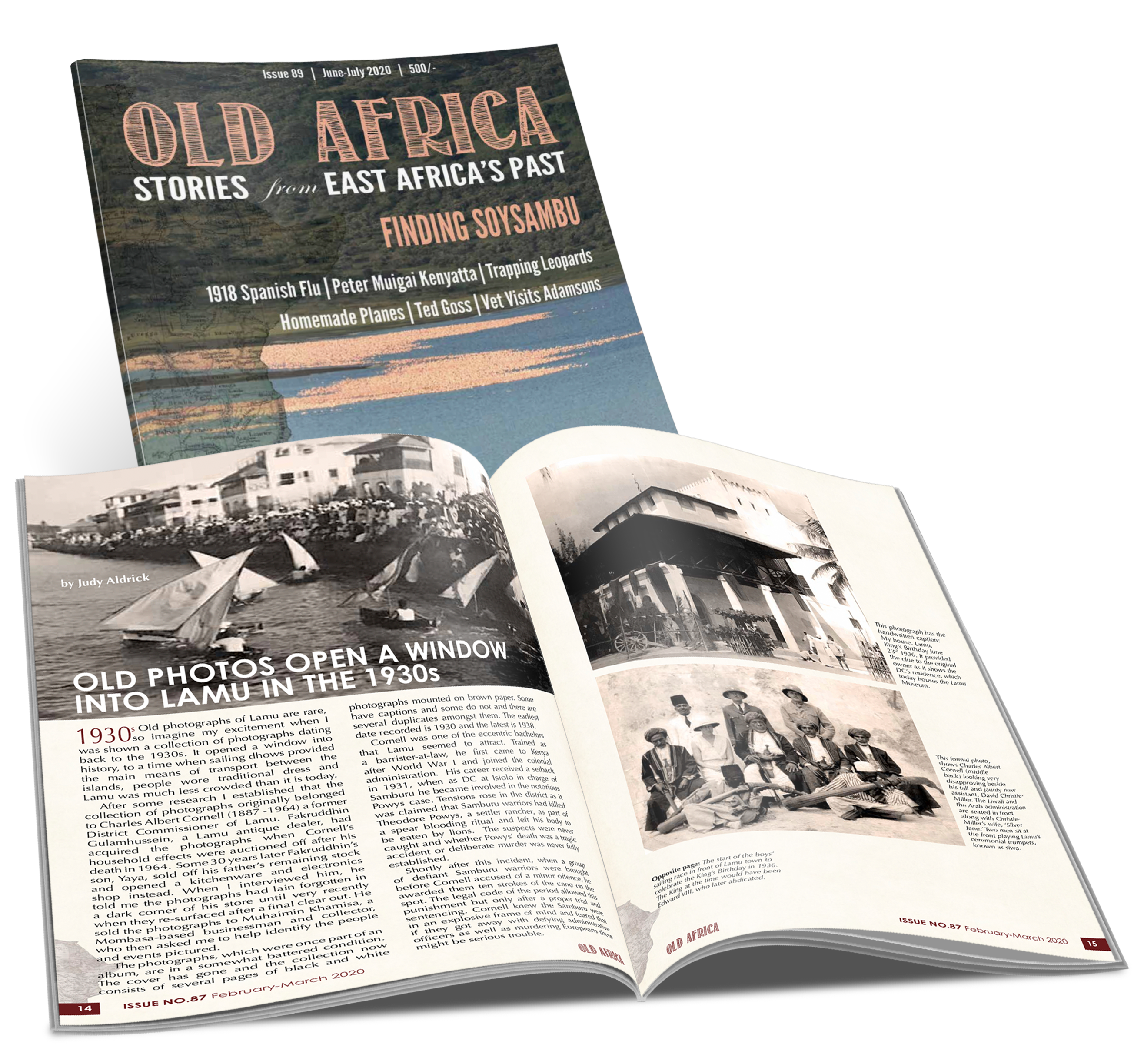 Old Africa magazine seeks to tell the story of East Africa's past through well-written stories and vintage photographs. Founded in October 2005, the first issue featured a story about the Royal Navy's ill-fated attempt to launch a naval presence on Lake Rudolph (now Lake Turkana) and an account of the Kedong Massacre. Since then the magazine has published stories and photos from Kenya's diverse ethnic groups – African, Asian and European – to preserve East Africa's history. 
---
Sir Charles Eliot 'His pet hobby is the study of nudibranchs or sea slugs. Never more closely did a man resemble the objects of his hobby.' Who could this be describing? Surprisingly, it was the first Governor, or Commissioner as it was called then, of the East Africa Protectorate (later named Kenya and Uganda). This was Sir Charles Eliot, born on 8 January 1862, son of a clergyman, unmarried, donnish, learned and utterly out of touch with the world. He had a vision: 'He envisaged a thriving colony of thousands of Europeans with their families, the whole of the country from the Aberdares and Mt. Kenya to the German border divided up into farms; the whole of the Rift Valley cultivated or grazed, and the whole country of Lumbwa, Nandi to Elgon and almost to Baringo under white settlement. He intends to confine the natives to reserves and use them as cheap labour on farms. I suggested that the country belonged to Africans and that their interests must prevail over the interests of strangers. He would not have it; he kept on using the word 'paramount' with reference to the claims of Europeans. I said that some day the African would be educated and armed; that would lead to a clash. Eliot thought that that day was so far distant as not to matter and that by that time the European element would be strong enough to look after themselves; but I am convinced that in the end the Africans will win and that Eliot's policy can lead only to trouble and disappointment.' The prescient writer of this description...