Old Africa books are well-told stories in the same tradition as the shorter pieces
our readers have come to enjoy from the pages of Old Africa magazine.
check out our titles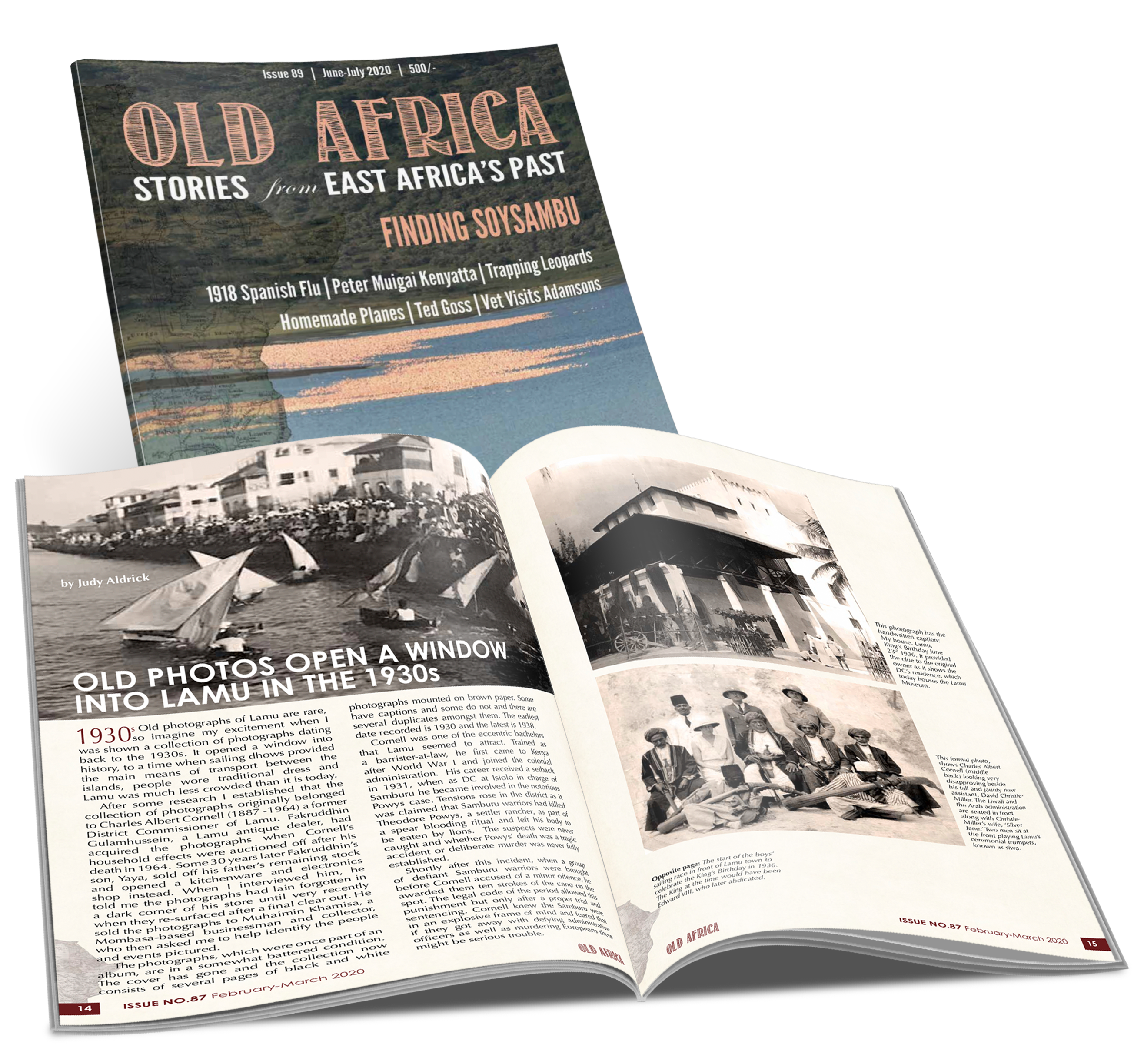 Old Africa magazine seeks to tell the story of East Africa's past through well-written stories and vintage photographs. Founded in October 2005, the first issue featured a story about the Royal Navy's ill-fated attempt to launch a naval presence on Lake Rudolph (now Lake Turkana) and an account of the Kedong Massacre. Since then the magazine has published stories and photos from Kenya's diverse ethnic groups – African, Asian and European – to preserve East Africa's history. 
---
Who began the Kakamega Gold Rush in the 1930s? A tall, bony American set forth from Eldoret with his wife in an ancient Ford in 1930, with two other Europeans and five Africans, on a prospecting expedition to northern Tanganyika, after the price of maize had fallen and their farms faced ruin. They found nothing, but on the way back they stopped at Kakamega near the Yala river. They thought they might as well pan the river, and to their surprise,they found gold flecks. Quickly borrowing some money, they bought provisions and petrol and started to stake out claims. Thus began the Kakamega gold rush. Who was this American? We find him, Louis Andrew Johnson, in the 1910 US Census living with his parents and working as a labourer on a fruit farm. Born in Iowa on 23 July 1877, he was now over six feet tall with a shambling walk and ill-fitting dentures that gave him a clamped-jaw appearance and a jutting chin. He had been a storekeeper in the Klondyke in Alaska where he learned to use prospecting pans and earned money by carrying buckets of water to the local brothels (apparently he had to leave hurriedly after a gambling episode).  The fruit farm was not to his liking, so he set out for Kenya and settled on the top of the bluff at Turbo. In those years he would play his violin in Eldoret and he and his wife were excellent hosts before the railway came, though in later years he turned dour. One acquaintance said he only ever heard him utter two words in the...