Old Africa books are well-told stories in the same tradition as the shorter pieces
our readers have come to enjoy from the pages of Old Africa magazine.
check out our titles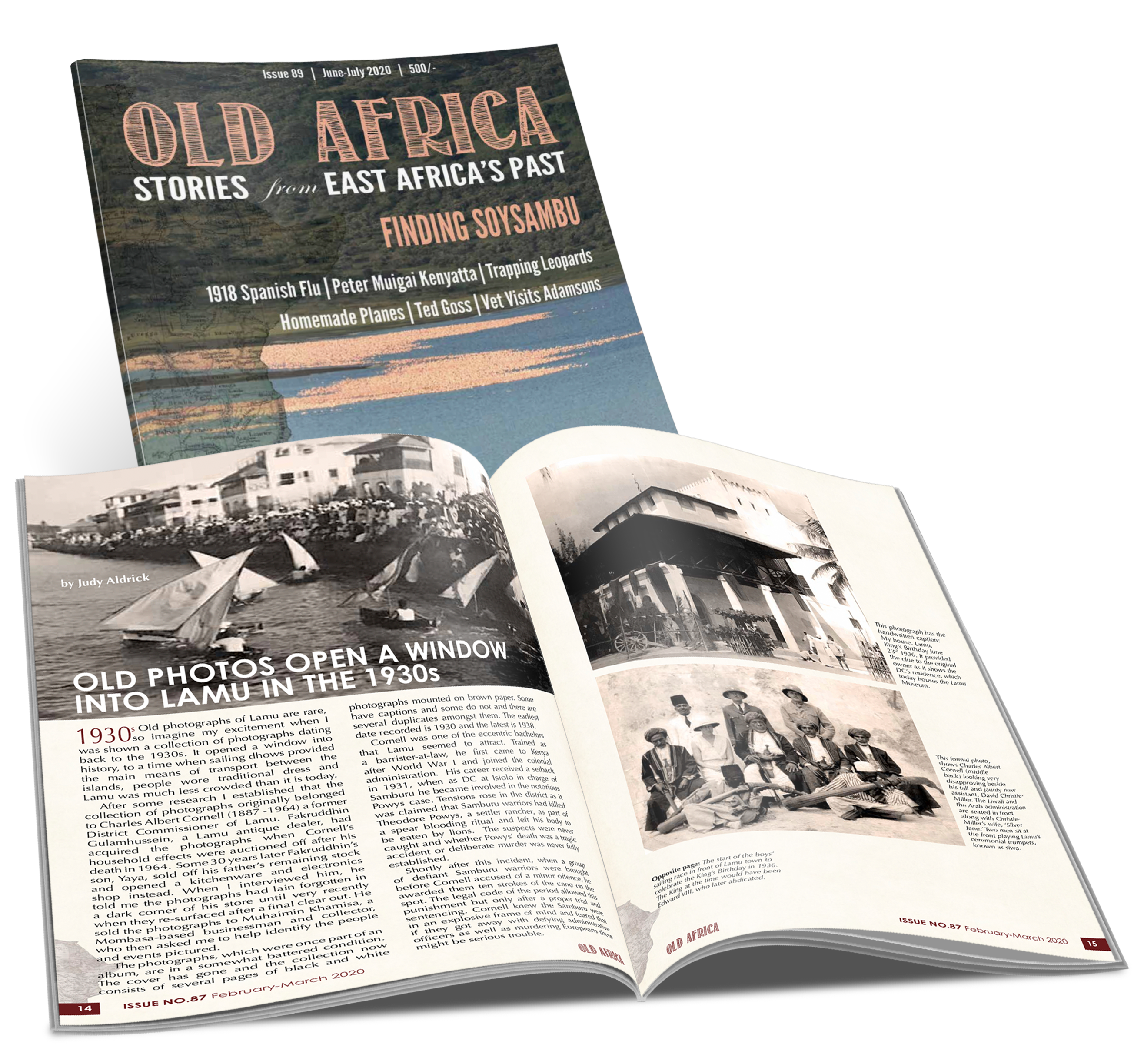 Old Africa magazine seeks to tell the story of East Africa's past through well-written stories and vintage photographs. Founded in October 2005, the first issue featured a story about the Royal Navy's ill-fated attempt to launch a naval presence on Lake Rudolph (now Lake Turkana) and an account of the Kedong Massacre. Since then the magazine has published stories and photos from Kenya's diverse ethnic groups – African, Asian and European – to preserve East Africa's history. 
---
More about Frank Hall Last month I talked about Frank Hall, for whom Fort Hall was named. He arrived at Fort Smith, about eight miles from present-day Nairobi, in 1893, and one of his jobs was to supply the caravans of people who marched from the coast to Uganda. These were a regular occurrence and could be composed of large numbers. In January 1895 there were caravans of 1050 men camped at Fort Smith, among them eight Europeans. It was a constant strain to secure supplies. Much was purchased from local people – the Kikuyu were keen to barter their crops, but Hall also planted gardens of European produce; in 1894 he had tomatoes, lettuces, French beans, peas, marrows and onions. Things should have become easier once the British Government took over the East African enterprise from the Imperial British East Africa Company in 1895. Surveyors began to arrive to plot the route of the proposed Mombasa-Lake Victoria railway. Frank Hall reported in August 1896: "Kikuyu is very different now…There are some Europeans about 100 yards from the Fort, building stores for two Mombasa firms, and one man planting coffee about 3 miles from here.' But his optimism did not last long. The following month he reported that things were infinitely worse than they were under Company rule, because transport arrangements had completely broken down. He had to send a caravan of 100 men the 300 miles to Mombasa for supplies. His colleague Ainsworth was starving at Machakos, so had to draw his food from Fort Smith. The trouble was that every available man was being used on railway...