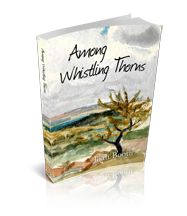 When Joan Booth and her sister Cicely came to Kenya in 1922 to help their brother Eric with his new ranch in Rumuruti, they had no idea the adventures they would encounter. Travelling by ox cart from the railway station at Gilgil to Eric's farm on the edge of the Pesi Swamp, they soon found themselves building houses and nursing livestock. In the midst of her new and challenging life, Joan still had time for her painting and illustrating. Her watercolour of the Rumuruti landscape graces the cover of this book, and she created the first elephant head logo for Tusker lager in the late 1920s. The original Tusker label showed an elephant's face head-on with large tusks and ears back. Joan's version lasted until the early 1960s when it was replaced by the silhouette of an elephant's head. Joan also drew the Mt Kenya image in 1932 that became the logo printed on the paper wrapping for Co-operative Creameries butter.
When her brother Eric married Phyllis Armitage, Joan returned to England, but she came back to Kenya after Phyllis died to care for his young daughter Celia. She took Celia back to England for several years until Eric remarried. In England Joan had a deep spiritual encounter and devoted much of her time to working with the Oxford Group. Joan sailed back to Kenya in the autumn of 1952 with her sister-in-law Violet Armitage and found her adventures weren't over yet. The ship they were travelling in sank off the coast of Mozambique and on arriving in Kenya they found the Emergency had just been declared and Joan had some harrowing experiences during those unsettled times.
This book tells Joan's story in her own words. She understates the experiences she went through and would not think of herself as a heroine. However, by persevering and working hard in difficult circumstances, Joan made a great difference in the lives of many.