Bluff: A Fisheries Officer at Malindi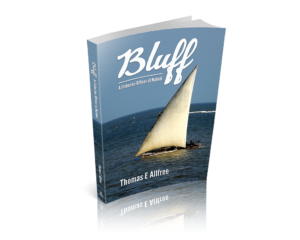 Thomas Allfree, Malindi's Marine Fisheries Officer in the 1950s and early 1960s, called his autobiography Bluff, because he felt he had bluffed his way through life, succeeding in various businesses and activities, even though he had never formally been trained in any of them. Allfree first managed a farm in Kenya's Rift Valley before moving to Malindi in about 1945 and becoming a partner in Lawford's Hotel. He operated his own fishing business and then a dhow transport business between Malindi and Lamu, before taking on the job as a fisheries officer for the coast, basing himself in Malindi.
Allfree wrote this book after he was diagnosed with cancer and finished writing it before his death in 1978. The book tells how he came to Malindi after World War II and then details his work as a fisheries officer from the 1950s through 1964. However, he said nothing in the book about the last decade or more his life in Malindi after he retired as a fisheries officer. This book contains an added epilogue drafted by Old Africa magazine after meeting and interviewing many of Malindi's older fishermen and other residents who remembered Tom.
Though written as an autobiography, this book also reveals forgotten history from the island of Lamu (with first-hand character sketches of District Commissioner Charles 'Daddy' Cornell and 'Coconut' Charlie Whitton), as well as hilarious insights on riding with some of the coast's legendary country bus drivers, burials at sea, safaris in search of eel breeding grounds and much more. When you finish reading this book, you'll feel like you were transported back to Malindi town and a way of life on the Kenya coast that has now disappeared.
Available from Amazon sites world wide.