Old Africa books are well-told stories in the same tradition as the shorter pieces
our readers have come to enjoy from the pages of Old Africa magazine.
check out our titles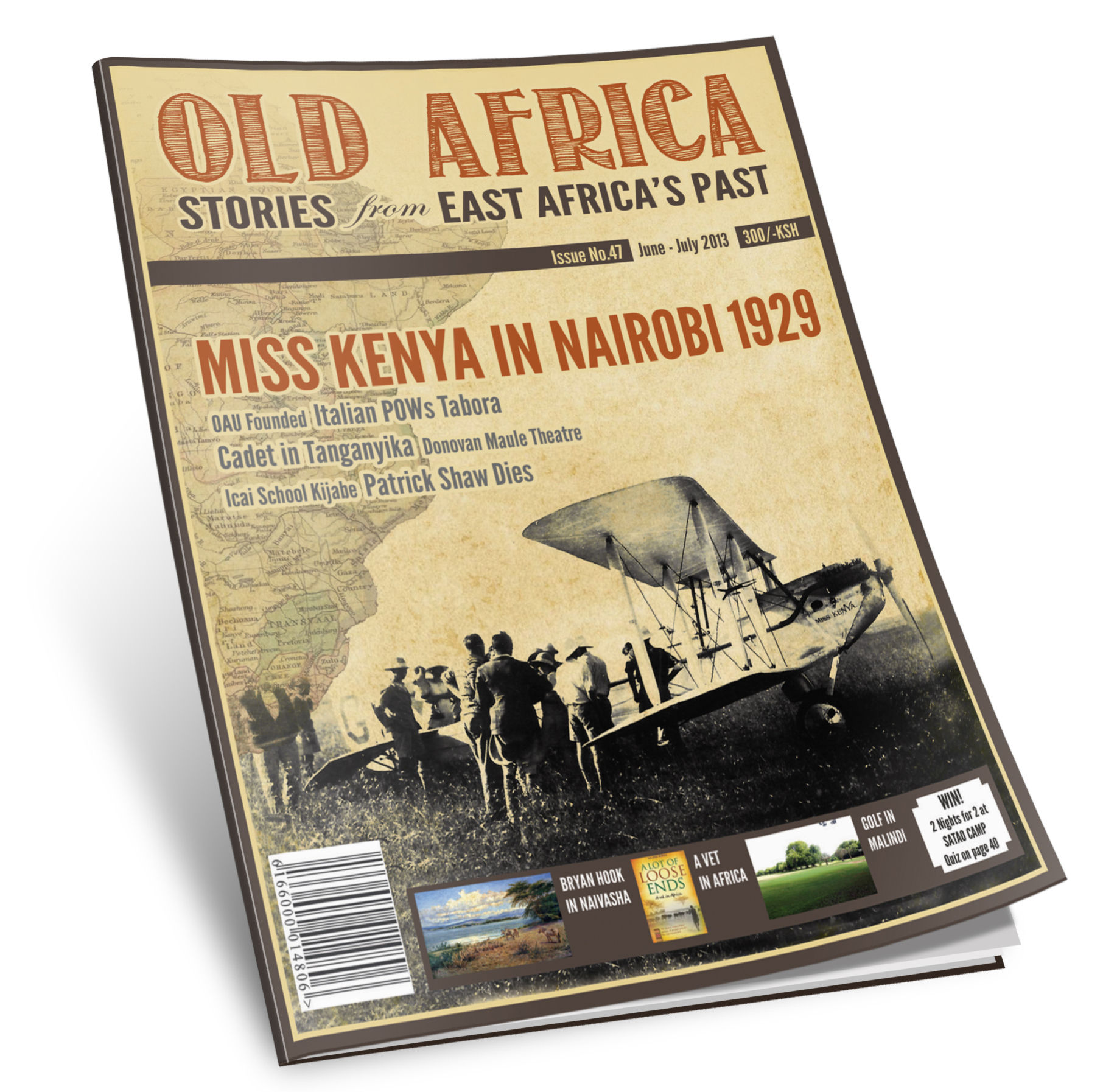 Old Africa magazine seeks to tell the story of East Africa's past through well-written stories and vintage photographs. Founded in October 2005, the first issue featured a story about the Royal Navy's ill-fated attempt to launch a naval presence on Lake Rudolph (now Lake Turkana) and an account of the Kedong Massacre. Since then the magazine has published stories and photos from Kenya's diverse ethnic groups – African, Asian and European – to preserve East Africa's history. 
---
Lady Sidney Farrar My last blogs have been concerned with the role of European women in Kenya, particularly in World War 2. It has become clear that a leading role was played by Lady Sidney Farrar. Who was she? She was the daughter of the 7th Earl of Buckinghamshire, who boasted the names Sidney Carr Hobart-Hampden-Mercer-Henderson. He must have been hoping for a son when she was born on 17 April 1900, for he called her Sidney (also Mary Catherine Anne). She grew up at the family seat at Great Hampden, Buckinghamshire, but her early life is something of a mystery. She appears in the 1901 census, but none of the family (she had an elder brother and sister) appears in 1911, so they must have been abroad, possibly in India. The next we hear of Sidney is that she joined the First Aid Nursing Yeomanry (FANYs) and served in France in World War 1. We hear nothing more of her until her marriage on 14 January 1924, to Captain Thomas Innes Farrar (born in British Guiana on 17 June 1896). We do know quite a bit about Thomas. He came from a family prominent in the religious life of British Guiana and the West Indies. His father Walter became Bishop of Antigua and of British Honduras. Thomas volunteered for active duty in 1914 and was commissioned into the 5th Battalion of the Royal Devonshire Regiment. He won the MC in the military campaign in Mesopotamia. After their marriage at St George's, Hanover Square, London, the Farrars moved to Kenya. They first appear in the voters' roll for Rift...
The Sultan's Spymaster tells the story of Peera Dewjee, an Ismaili merchant who crossed from India to Zanzibar as a boy. Later he became Sultan Barghash's barber and valet, where he became a confidant to the Sultan and a trusted advisor. Peera Dewjee acted behind the scenes during momentous events in the history of Zanzibar and East Africa – the closing of the slave markets and imperial expansion by Germany and Great Britain.
As troops flocked into Kenya to defend the country from possible Italian invasion from Abyssinia (Ethiopia) in the north, so Kenya's women rushed to help the war effort. Up-country towns such as Nanyuki became gorged with South African troops, and its hotel, the Sportsman's Arms, rang with their favourite song, Sarie Marais. As the male farmers flocked to the recruitment offices, their womenfolk took over the running of the farms. Nearly 800 women were employed as owner-farmers, assistants, or acting on behalf of menfolk serving in the forces…