Old Africa books are well-told stories in the same tradition as the shorter pieces
our readers have come to enjoy from the pages of Old Africa magazine.
check out our titles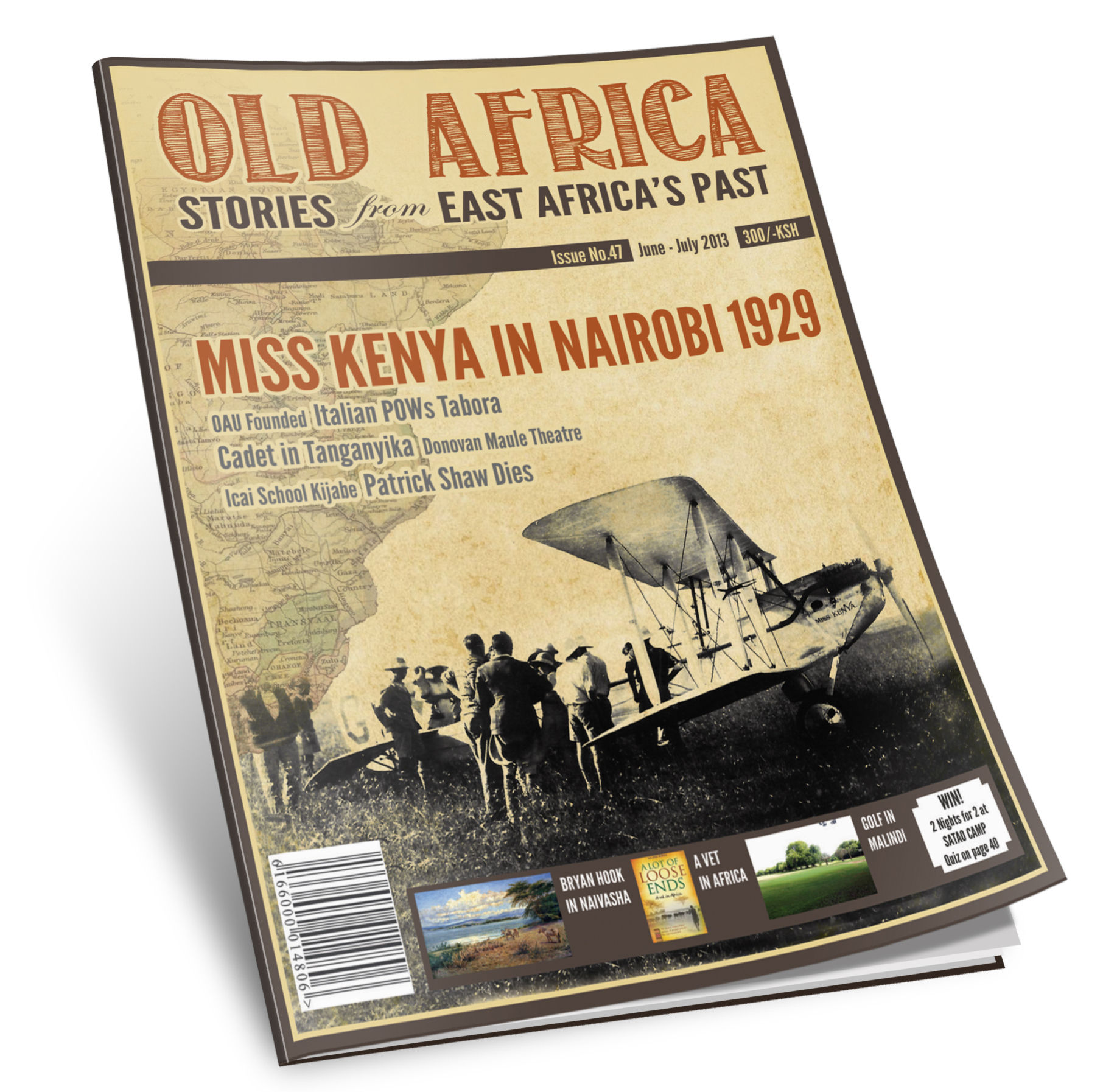 Old Africa magazine seeks to tell the story of East Africa's past through well-written stories and vintage photographs. Founded in October 2005, the first issue featured a story about the Royal Navy's ill-fated attempt to launch a naval presence on Lake Rudolph (now Lake Turkana) and an account of the Kedong Massacre. Since then the magazine has published stories and photos from Kenya's diverse ethnic groups – African, Asian and European – to preserve East Africa's history. 
---
Mombasa's Law Courts On 30 August 1984 the new Law Courts were opened in Mombasa, but where had justice been dispensed beforehand? A British court, presided over by an English barrister, had been established in a godown near the old harbour in Mombasa in 1890, when the Imperial British East Africa Company was in charge of the area. In about 1898 the court moved into the old police headquarters opposite the entrance to Fort Jesus (where the curio market now is). Then magnificent new premises were built in Fort Jesus (now Nkrumah) Road. On 31 December 1902 a fine building to house the law courts, as shown below, was opened by the Commissioner, Sir Charles Eliot, and the High Court based in Zanzibar moved to Mombasa. To begin with the judiciary followed the practices of Bombay's High Court and was staffed almost entirely by personnel trained in India. In 1911 the High Court was transferred from this building to Nairobi, and British Indian legal practices ceased to be observed. Instead, the practices of English law were substituted. Non-High Court cases were still heard in Mombasa. The building material used was coral rag bound with lime mortar and faced with plaster. A deep arcaded veranda surrounded the building on the ground floor, supporting an open-air balcony above. It was more usual in this style of building for the upper balconies to be enclosed. Everywhere internally they used dark, solid, well-carpentered wood for doors, staircases, shutters, balconies and floors. Teak was the wood generally used, for it was almost impervious to white ants. The Law Courts has a...
New From Old Africa books!  Where Antelope Roam: And Other Stories Out of Africa by Jon Arensen The short stories in this book are all connected to Jon Arensen's experiences in East Africa. They are deeply personal and are narrated in the first person. As in any good anthology, there are diverse topics with different conclusions – clever, sad, funny, surprising, cultural, educational and spiritual. The author's reputation as a storyteller is well known. Here are some of his favorite stories. buy now at...
What caused young men to join the exodus from Britain to East Africa in 1910-1912? Let us take one example and look at his memoir. Brian Havelock Potts, born in Brixton on 30 March 1891 as a fourth child and only son, came from a middle-class family. His father William Potts was a journalist (a parliamentary reporter in 1891) at the Morning Standard and was made redundant when Brian was 15. Brian became an office boy in a London stockbroker's. There a friend told him his brother was growing coffee in Nairobi. This prompted the young Brian to visit Rowland Ward's (the taxidermist in Piccadilly), and next door stood the safari outfitters Newland Tarlton…