Old Africa books are well-told stories in the same tradition as the shorter pieces
our readers have come to enjoy from the pages of Old Africa magazine.
check out our titles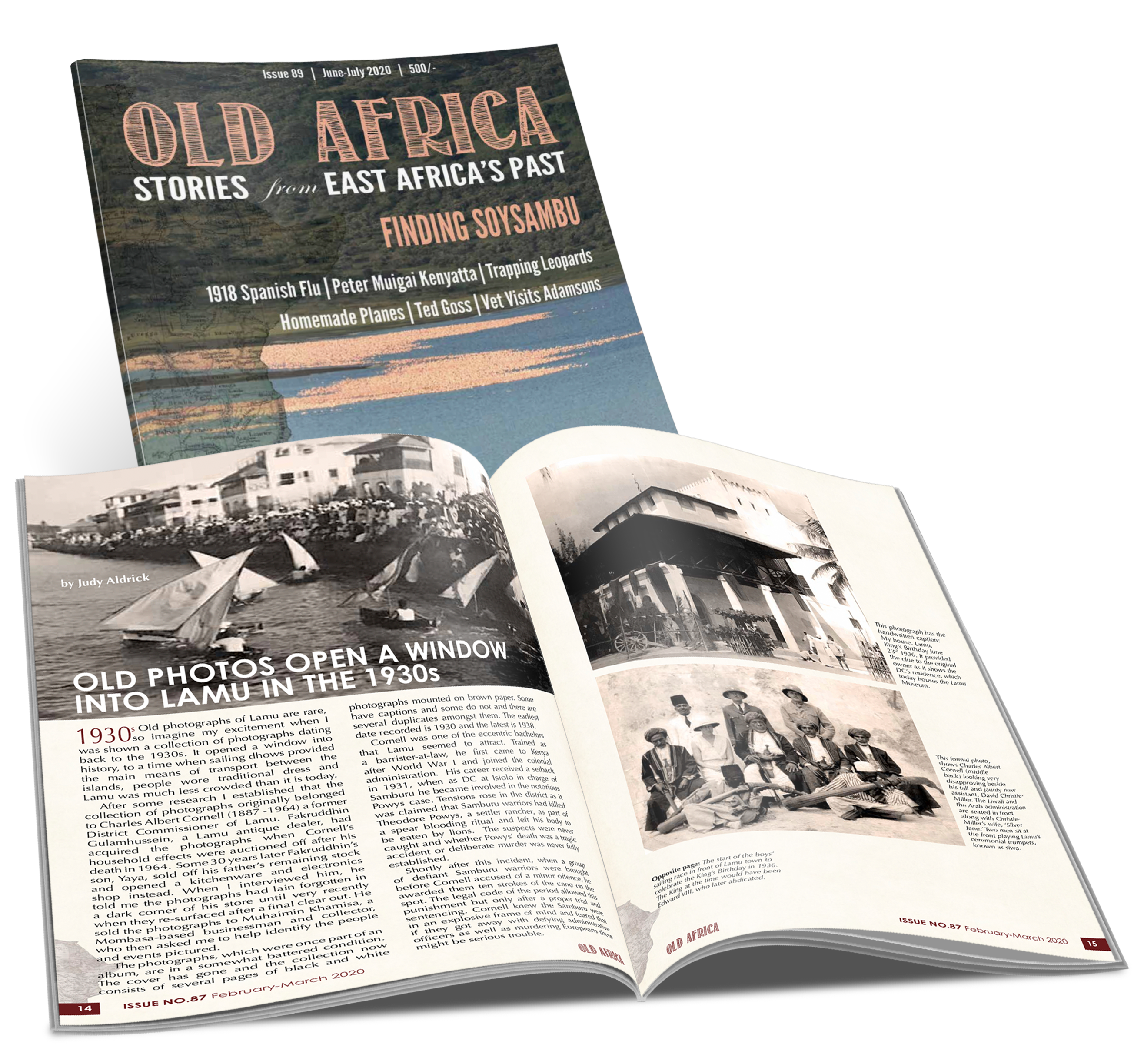 Old Africa magazine seeks to tell the story of East Africa's past through well-written stories and vintage photographs. Founded in October 2005, the first issue featured a story about the Royal Navy's ill-fated attempt to launch a naval presence on Lake Rudolph (now Lake Turkana) and an account of the Kedong Massacre. Since then the magazine has published stories and photos from Kenya's diverse ethnic groups – African, Asian and European – to preserve East Africa's history. 
---
Kitale in 1930 I am grateful to Nick Symes for showing me this letter a farming friend in Kitale wrote to his father: It paints a good picture of Kitale in 1930, the year in which the photographs below were taken.    "Kitale was as far inland and as near the borders of Uganda as any settlers had then penetrated as permanent farmers. The "town" consisted chiefly of the District Commissioner's house and offices, a little wooden post office and a general store. The nearest railway station was at a place called Eldoret some sixty miles distant over roads in which heavily laden ox waggons generally got stuck in the rainy season. It was not a very attractive place. In 1924, there had been a great Empire Exhibition at Wembley at which Kenya had been well represented. Government officials were stationed in the pavilion to give information and encouragement to prospective settlers. A special and rather extensive pamphlet was issued, giving details of the various industries which were to be developed and painting the future prospects of the Colony in very glowing colours. The Government, in fact, were doing their best to induce people to settle in Kenya. But in this year, and in consequence largely of the publicity obtained at the Wembley Exhibition, many people came out to Kenya and, with purchasers in the market, the price of land increased, and in the more desirable positions as much as from £3. to £5. an acre was being asked and paid, while for proven coffee land anywhere near Nairobi £25 to £35 an acre was asked. About 1928 that...