Old Africa books are well-told stories in the same tradition as the shorter pieces
our readers have come to enjoy from the pages of Old Africa magazine.
check out our titles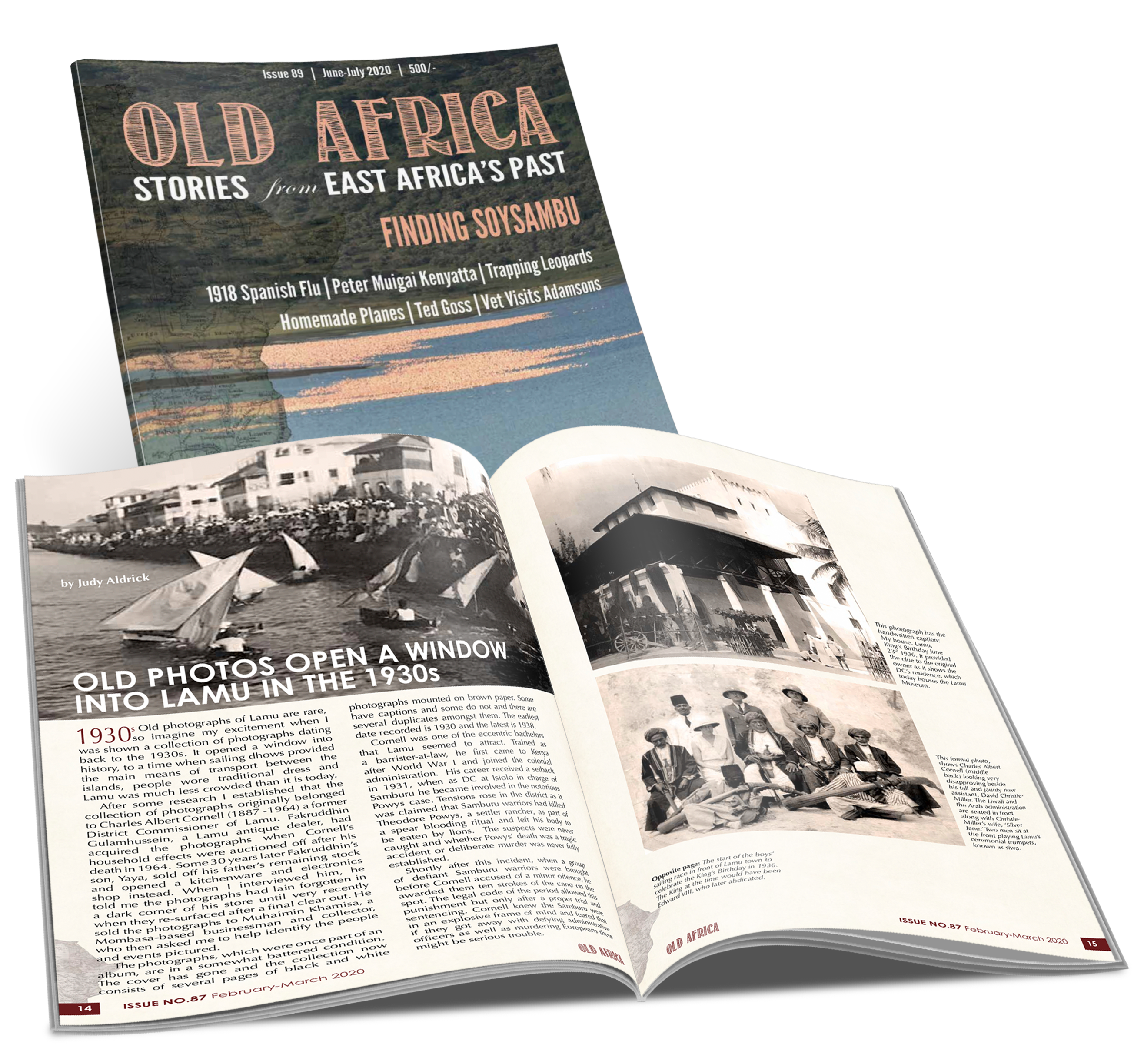 Old Africa magazine seeks to tell the story of East Africa's past through well-written stories and vintage photographs. Founded in October 2005, the first issue featured a story about the Royal Navy's ill-fated attempt to launch a naval presence on Lake Rudolph (now Lake Turkana) and an account of the Kedong Massacre. Since then the magazine has published stories and photos from Kenya's diverse ethnic groups – African, Asian and European – to preserve East Africa's history. 
---
Why was Fort Hall given that Name? Many of you will remember Murang'a as Fort Hall, and you may have wondered at the name. When the railway reached the end of the Kapiti plains in 1899, it was half way to its final destination – Lake Victoria. The directors decided to build a depot on the boggy flat ground they began to call Nairobi before tackling the uphill gradient to the lip of the Rift Valley and the precipitate descent down its wall. This meant that Fort Smith, a few miles uphill from Nairobi, and for many years the government station on the route to Uganda, was no longer needed as a staging post. It was decided to abandon it and establish a centre in Nairobi instead. John Ainsworth, the government representative in Machakos, managed to bag the coveted administrative post in Nairobi and this meant that Frank Hall, who had been at Fort Smith since 1892, was relegated to Machakos, much to his disgust. He felt (and he was probably right) that he understood the Kikuyu better than any other white man. He was certainly fluent in their language and in Swahili. Finally Hall managed to get back into the Kikuyu area when the government decided to establish a post at Mbirri and asked Hall to build it. Frank Hall Who was Frank Hall? Educated at Sherborne and Tonbridge, he abandoned his job in the Bank of England and went to teach in South African schools. Leaving teaching, he tried storekeeping and farming in South Africa, but he finally found his feet when he joined the Imperial British...