Old Africa books are well-told stories in the same tradition as the shorter pieces
our readers have come to enjoy from the pages of Old Africa magazine.
check out our titles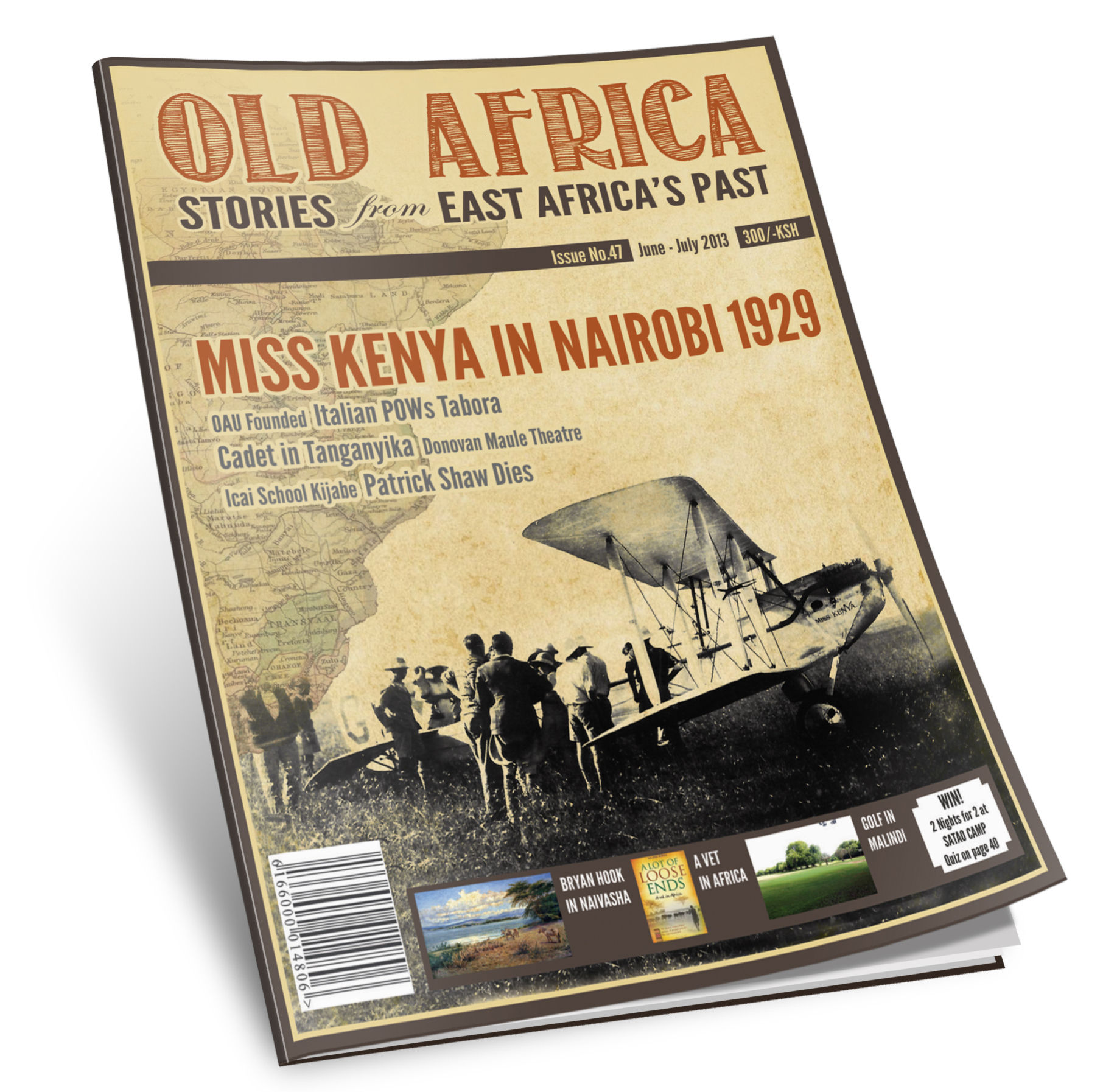 Old Africa magazine seeks to tell the story of East Africa's past through well-written stories and vintage photographs. Founded in October 2005, the first issue featured a story about the Royal Navy's ill-fated attempt to launch a naval presence on Lake Rudolph (now Lake Turkana) and an account of the Kedong Massacre. Since then the magazine has published stories and photos from Kenya's diverse ethnic groups – African, Asian and European – to preserve East Africa's history. 
---
The Wrens in Mombasa in World War II The Mombasa of today is so different from the Mombasa of the Second World War that it is worth having a look at what the town was like previously. One of the best people to describe it is an officer in the Wrens who was posted to Mombasa, arriving in a Short Sunderland flying boat with blinds carefully drawn as it flew through neutral Portuguese East Africa. Mombasa was brightly lit with well stocked shops, so different from the England of the day. Wrens were housed in the Lotus Hotel, run by Mrs. Lotus Johnson. They were part of a detachment for the Eastern Fleet, which had recently retreated to Mombasa from Colombo. The Lotus Hotel had been commandeered for the Wrens and was comfortable apart from the ankle attacks from Mrs. Johnson's mongoose. The Allidina Visram School was also commandeered for a headquarters for the Eastern Fleet and in a temporary banda in the schoolyard was set up the Cypher Office manned by the Wrens and FANYs, with Jack Nixon, Roger Hardman and Tony Holloway, in charge. These men and the FANYs were all local Kenyan people. Among the Mombasa FANYs were Susan Ridley, Rhoda Ransome, Cynthia Bellhouse and Bunty Goodall.                          Wrens in Mombasa The Wrens got about on bicycles because there were only a few rickshaws and taxis were rather expensive. Azania Drive from the Likoni ferry round to the Florida was shut off for harbour defences with concrete gun posts manned night and day. The golf course was not in action and the Florida degenerated into a...