Old Africa books are well-told stories in the same tradition as the shorter pieces
our readers have come to enjoy from the pages of Old Africa magazine.
check out our titles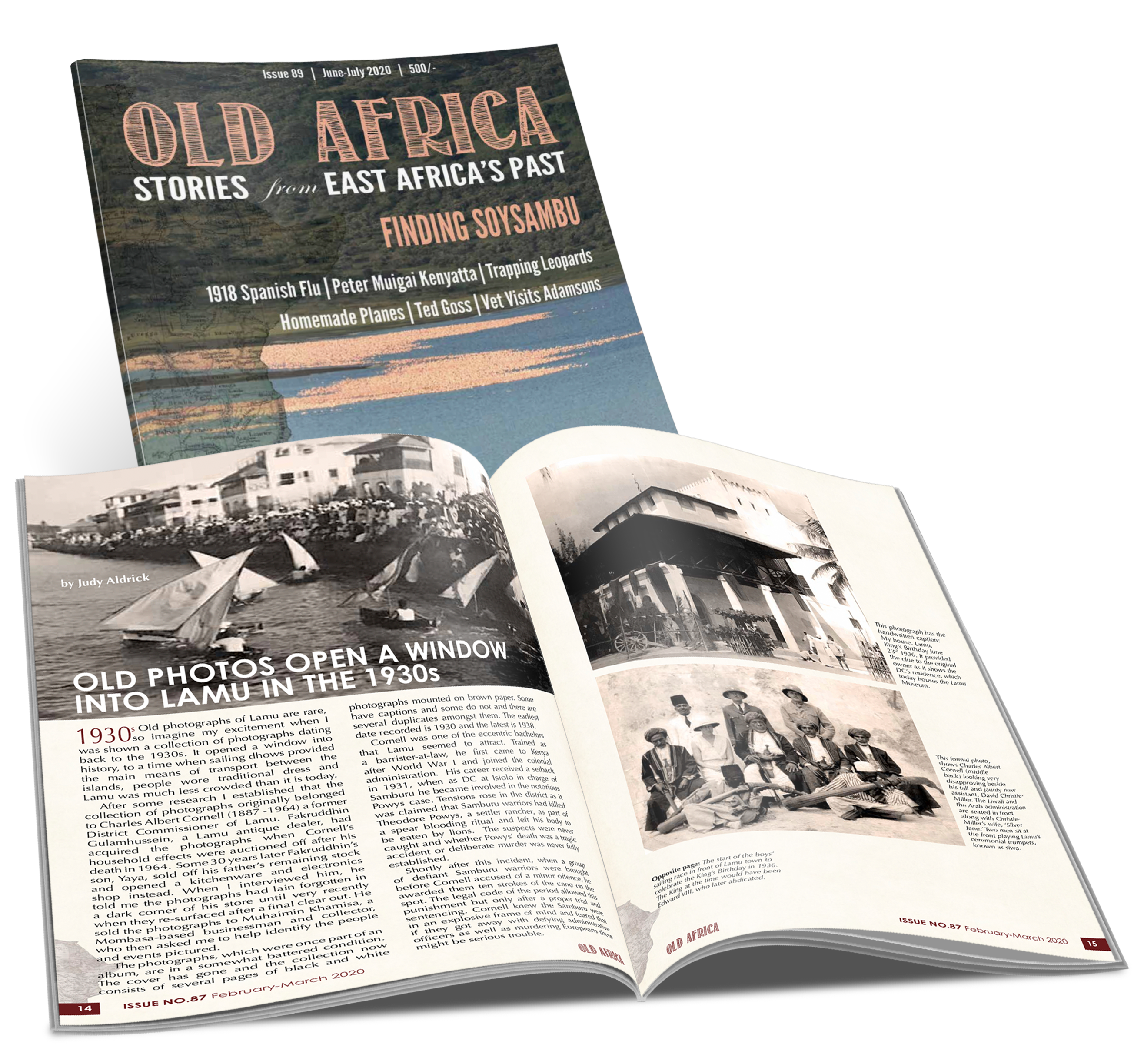 Old Africa magazine seeks to tell the story of East Africa's past through well-written stories and vintage photographs. Founded in October 2005, the first issue featured a story about the Royal Navy's ill-fated attempt to launch a naval presence on Lake Rudolph (now Lake Turkana) and an account of the Kedong Massacre. Since then the magazine has published stories and photos from Kenya's diverse ethnic groups – African, Asian and European – to preserve East Africa's history. 
---
Nakuru Township in 1930 Nakuru became a township originally because in 1900 it was a stopping place for the railway on the floor of the Rift Valley after the difficult descent into the valley. How had it fared thirty years after a station was built there just after the turn of the century? Allister Macmillan visited the place in 1929 and this is what he said about it: 'Nakuru is embowered by trees and consists of one main street named Donald Avenue with various short thoroughfares branching off on each side.  The little town is noted for its hospitality and gaiety and its various sports and social clubs, amongst the best institutions of the kind in Kenya. Nakuru  has an excellent race course, golf course, and two Masonic lodges, two good hotels, a cinema, and a very fine government school, and a large European Hospital supported by voluntary efforts. About 200 Europeans lived in and around the town and there was an Asian population of about 600, but the number of Africans has not been recorded. Initially farming around the area was not a success because of what became known as 'Nakuruitis,' a disease of animals suffering from a shortage of minerals.  Once the cause of the disease was established, appropriate mineral mixtures solved the problem. Apart from the farmers there were several business concerns in the settlement. There were more than three garages, most necessary for the repairs required by vehicles rattled by the corrugated murram roads. A branch of Gailey & Roberts, whose headquarters were in Nairobi, provided a comprehensive stock of agricultural implements, while the nearby...