Old Africa books are well-told stories in the same tradition as the shorter pieces
our readers have come to enjoy from the pages of Old Africa magazine.
check out our titles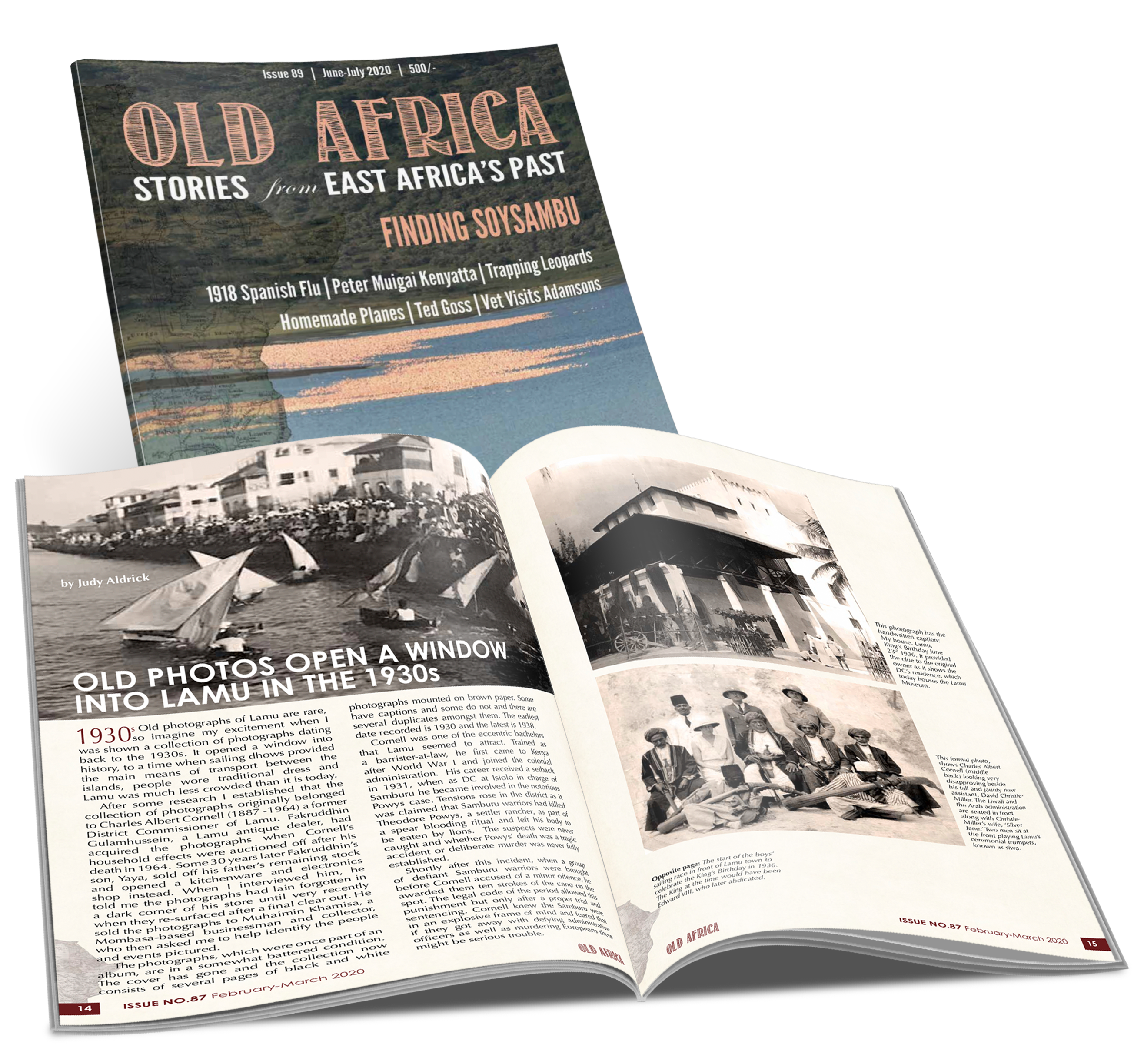 Old Africa magazine seeks to tell the story of East Africa's past through well-written stories and vintage photographs. Founded in October 2005, the first issue featured a story about the Royal Navy's ill-fated attempt to launch a naval presence on Lake Rudolph (now Lake Turkana) and an account of the Kedong Massacre. Since then the magazine has published stories and photos from Kenya's diverse ethnic groups – African, Asian and European – to preserve East Africa's history. 
---
www.christinenicholls.co.ukwww.europeansineastafrica.co.uk Born in 1866 in Leyton, Sussex, Claude Vernon aspired to be a doctor. After training in London and Cambridge he landed a job as Medical Officer of Health in Ashford, Kent, where he stayed until 1913.  After the First World War he decided to move to Kenya in 1920 with his growing family – wife Edith Augusta and children Maurice, Joan and Nancy. His adventures began. In Nairobi he met the Hon. Berkeley Cole, Legislative Council representative for Nanyuki, who told him that the town needed a doctor. The prospect was enticing, because the job went with a farm which had been allocated to a doctor who never arrived. After a stint in Nyeri waiting for formalities to be completed, the family travelled to Nanyuki to find the 2,000 acre farm they had been given. It was depressing – utterly undeveloped, covered in oat grass and cedar and with no living accommodation. As his training had not equipped him to build a house, Vernon engaged the son of a neighbouring farmer to construct a simple mud and wattle dwelling while the family lived in a tent. He trained himself to be a carpenter to make furniture out of the wooden boxes that held petrol tins. The family grew their own vegetables. Fortunately Vernon had shot at Bisley before leaving England, so he was able efficiently to provide buck meat for the pot. He named his farm Simba Shamba because the roar of lions could be heard every night. He set up his practice in Nanyuki, although the farm was thirteen miles distant and entailed crossing five...