Phyllis ('Pippa') Ada Latour Doyle was awarded France's highest honour, the Chevalier of the Legion d'Honneur, on 25 November 2014, by the French ambassador to New Zealand. What prompted this gesture? An extraordinary story has emerged of an ex-Kenya girl, now 93, and her derring-do during World War II. Phyllis Latour was born on 8 April 1921 in Durban, with a British mother and French father, a doctor. Both her parents died when she was a child – her father as a victim of tribal wars in the Congo and her mother, who had then married a racing driver, when she crashed a racing car. Phyllis grew up speaking fluent French. She moved to Kenya and attended the Kenya High School from 1936 to 1938, in Nightingale House. At school she had a dreadful stammer, which she later conquered.
She moved to England in 1939, to continue her education there, and on leaving her studies in 1941, she joined the Women's Auxiliary Air Force, to train as a flight mechanic. Realising the potential of her fluent French, the Special Operations Executive, the secret force Churchill wanted to 'set Europe ablaze,' soon recruited her. She was happy to co-operate because she wanted revenge for the imprisonment by the Nazis of her godmother. She was trained by a cat burglar, released from prison for the purpose, to climb drainpipes, get in high windows, and clamber over roofs.
With the code names of Paulette, Genevieve, Plus Fours and Lampooner, she was parachuted into the Vichy area of France in 1942, from an American B-24 bomber, with a small spade strapped to her legs to bury her overalls and parachute. In her possession was Benzedrine to stay alert and an L-tablet – a rubber encased suicide capsule to be used if she was captured. Death would follow sixteen seconds after it was bitten. She often slept rough and had to forage for food. A friendly French family fed her on rats – all they had to eat. On 1 May 1944 she was dropped into Normandy to operate as part of the Scientist Circuit under Claude de Baissac. She sent 135 secret radio reports about the Nazis back to Britain – a particularly hazardous exercise because she had to cycle away from the sending site as soon as the message had gone, to evade capture. She carried her codes on pieces of silk among her knitting. The information she provided was vital because it concerned German positions prior to the D-Day landings. After the war Phyllis was appointed MBE and awarded parachute wings and the croix de guerre.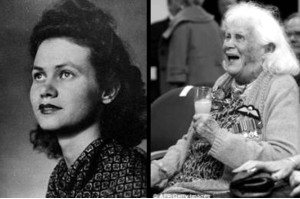 Phyllis then returned to Kenya and married Patrick Doyle, an Australian engineer. One of her bridesmaids was the EAWL's Barbara Blake. The couple later moved to Fiji and Australia. There were four children, but the marriage did not survive and there was a divorce in the 1970s. Phyllis modestly never talked about her wartime work, but the extraordinary story emerged recently when the New Zealand French ambassador said she was 'a formidable example for younger and older generations alike.' Phyllis now lives a sprightly life in Auckland, New Zealand.
www.csnicholls.co.uk