Andrew Rattray and the Training of Zebras

Andrew Rattray
Zebras are notoriously difficult to train. Any hope that they could be pack animals in Kenya, where horses died speedily, was abandoned after the early years of colonialism, but not until strenuous efforts had been made. A pioneer in the training was Andrew Rattray, a 37-year-old Scotsman from Perthshire, one of nine brothers, who arrived in East Africa in 1913. He earned his living by catching zebras for zoos, and soon came to the conclusion that these animals, with their strong chests and powerful muscles, would be useful horse substitutes. They were resistant to bites from the tsetse fly, lethal to horses as they caused trypanosomiasis. Rattray had a large ranch near Isiolo filled with  zebras. It was there that Martin and Osa Johnson obtained their zebra pictures, particularly that of Osa riding a zebra.
A quiet, unassuming man, Rattray had a temperament in stark contrast to that of the vicious, wilful, ill-tempered zebras. Yet he did manage to break some to harness, and train them to pull ploughs. He also became a sight in Nairobi, driving little taxi-carts pulled by zebras around town, Apparently the beasts were a real trial to get into the shafts in the mornings.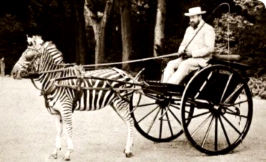 Taxi cart pulled by a zebra.
Soon Rattray became involved in a romantic scandal. A good-looking, squarish-cut man, he was attractive to ladies. Osa Johnson once spent a week bathing his badly scratched arms in salty water after a mauling by a leopard. He won the heart of Averill, the tomboyish daughter of Viscount Furness, shipping magnate and colliery owner. This nobleman took annual six-week big-game-hunting trips in Kenya, led by Andrew Rattray, and always took along his daughter. She had already become interested in the hunter when he arrived in London with two young zebras the Viscount had ordered. On this safari Rattray and young Averill ran off and eloped. When news of the elopement reached Furness he placed a notice in the East African Standard: 'To Whom it may concern: Mr A. Rattray has ceased to be the hunter to my safari and from this date has no authority to order anything on my account. (Signed) FURNESS.' Thinking better of his vow to shoot Rattray on sight, Furness was satisfied with disinheriting his daughter.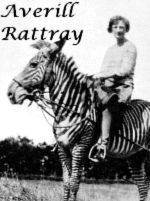 Averill Rattray
Averill and Rattray married secretly in Nairobi on 29 January 1932, with a maid and a typist as witnesses: he was 56 and she 24. Her stepmother Thelma Furness, mistress of King Edward VIII when he was Prince of Wales, had no such qualms as her husband. She telegraphed her congratulations. But a year later tragedy struck – Rattray died on 13 November 1933. The zebras were all scattered and sold and that was the end of the experiment. What became of poor Mrs Averill Rattray? The story goes that she secluded herself alone in the bush and drank herself to an early death, on 6 January 1936. This is recounted by Gloria Vanderbilt in her book Double Exposure. Averill is buried in Forest Road cemetery in Nairobi.
A similar effort to train zebras had been made by Bronsart von Schellendorf on his farms five miles from Athi River and at Mbuguni, near Kilimanjaro. Described as 'a suspicious and unscrupulous character' by the Governor Sir Charles Eliot, Bronsart claimed to be able to tame and break in zebras within a period of nine months at a price from 200 to 600 rupees. However, we hear nothing more of this experiment, probably because the First World War broke out.
Dr Ribeiro, a Goan doctor in early Nairobi, actually managed to train a zebra to be ridden He rode him around town for house calls. As a founder member of the Goan Institute, he rode his zebra right up to the veranda of the club and hitched it to the front post. A photo of Dr. Ribeiro on his famous zebra is included in the 1950 Souvenir Brochure of Nairobi City. But zebras proved too time-consuming and difficult to train and the practice of trying to tame them died out.
www.csnicholls.co.uk and http://www.europeansineastafrica.co.uk