An Enterprising Female Pioneer
Who remembers their parents buying their school uniforms from Hudsons Ltd in Nairobi? You probably never wondered who Hudson was. In fact, the name belonged to a very enterprising woman who came to East Africa in August 1899 – Ann Louise Hudson. Born in 1871, she was one of twelve children of a Welsh labourer called Sharp. She married one John Hudson in Manchester in 1899. Her husband had gone to East Africa in 1897 to work on the construction of the Uganda Railway. He took his wife to Mombasa in 1899 and their first home was a tent in Kilindini stuffed with packing cases. They moved to the nascent town of Nairobi where their first child, Sophia, was born in 1902. Upon the railway's completion the family moved to India, but returned to East Africa in 1910, when John got another job on the railway. To swell the family's finances Ann went to work with the new Nairobi firm – Whiteaway Laidlaw.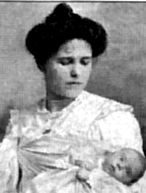 Ann Louise Hudson
Then John died in 1919, of pneumonia not helped by his heavy drinking. With three children to support, Ann embarked on a second marriage, but it proved a disaster. She left her husband and was almost destitute. She had to find the money to pay for schooling for her three children, two daughters and a son, who were now in England living with relatives. She utilised the talent she possessed – skilled needlework. From a small room in Government Road she mended and altered curtains, repaired and made dresses, created hats and did beautiful embroidery. She was soon in demand and expanded her business – her first shop in Government Road was between May & Co., the sports shop, and David Lyall, the jewellers. Her profits allowed her to import bras and corsetry and build a house for herself at Muthaiga. (The house was commandeered by the army in the Second World War, and it was here that Lord Erroll was working at the time of his murder. It has now been demolished, to be replaced by a petrol station and shopping complex at the junction of the Limuru and Muthaiga roads).
Barclays Bank wanted premises in Government Road, at the junction of what was then Delamere Avenue, so Ann had to move her shop. The walls of her new accommodation, in Mansion House, were painted a sophisticated dove grey and plum. Kenya High School girls flocked there to have their uniforms made and to admire the delicate hand-embroidered lingerie, so different from the voluminous grey school bloomers being purchased for them. Ann was getting old and relinquished the control of her business to her two daughters, Sylvia Johnson and Sophia Suffield. She died on 30 September 1953 and was buried next to her husband in Forest Road cemetery, Nairobi.
Hudson's was sold in the early 1960s when Ann's daughters emigrated to Australia. It changed hands a few times and then faded from the scene. But there are still those of us who remember this remarkable female pioneer who created a successful business to support her family.
Some of the information in this piece came from the Ayre database on East African residents which it is hoped to publish on the web later this year.
www.csnicholls.co.uk