In 1912 Eldoret did not even have a name. It consisted of a few dukas (small shops), a bar, the District Commissioner's house and a post office. It was called 'Sixty-four' by the few Boers and Britons who farmed in the area because such was the number on the map of the block of land it occupied. The post office gave as its address Eldore River, a watercourse which merged with another river named the Sosiani (or Saucy Annie in local parlance). Telegrams went by heliograph to Kapsabet, the nearest point where there was a telegraph line. Then in 1911 Sir Percy Girouard, the Governor of British East Africa, visited the settlement and the locals suggested to him that they call the place Girouard. Mindful that his was an uncommon name and difficult to spell, Girouard suggested a 't' should be added to Eldore, and thus the place became Eldoret, a name which happily suggested Eldorado.
The Standard Bank of South Africa was at this time expanding into other territories, and it decided to establish branches in Nairobi and Mombasa in January 1911, under the direction of J J Toogood. There was further East African expansion and a branch was opened in Eldoret, in 1912. The Bank appointed a young man formerly resident in South Africa to open the Eldoret branch. He was John Clifton Shaw, a Scotsman of thirty-four years of age, who had gone to East Africa in 1907. His background was one of considerable affluence and he was probably well educated. Born in Monifieth (now a suburb of Dundee), Scotland, on 1 November 1877, he grew up in the family of a rich jute spinner and manufacturer employing 348 people in his jute factories (Temple Mills in North Tay Street and Annfield Works , Hawkhill).
This entrepreneur, J C Shaw's father, was James Shaw, of 12 Constitution Terrace, a man who had made a profitable marriage to Barbara Baxter, whose family joined James in his enterprises, now named Shaw, Baxter & Moon. The pair had four sons and two daughters, and John Clifton was their youngest child. It seems that misfortune then befell the family, because by 1891, when John Clifton was fourteen, his father James seems to have died and his mother was bringing up the family alone. It may have been his desire to help the family financially that led John Clifton to go to South Africa, or he may have gone to fight in the Boer War. He first appears in East Africa in 1907, accompanied by a nineteen-year-old Nellie Vera, who used the surname Shaw, though her name was Winter. The pair had met in Mafeking, whither they returned in 1913 to get married on 27 November.
Shaw had to build a bank in Eldoret, but the only building materials readily available were mud and wattle. The story goes that a safe was brought to Eldoret on a wagon and duly unloaded. But then it proved too heavy to move so the bank was built round it, of mud with a corrugated iron roof. It was rather a flimsy structure but at least it had a brass plate sent from South Africa, proudly attached to a veranda post. The Shaws lived in a round hut behind the bank. The building was next door to Eddy's bar, colloquially known as 'the Rat Pit' and run by Herbert Wreford Smith and John McNab Mundell.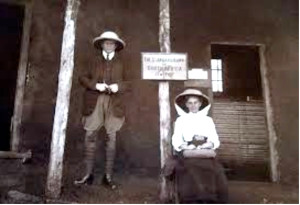 The photo accompanying this article shows Shaw and Nellie in front of the bank.
There are many stories about J C Shaw. One is that he had his morning bath behind the counter daily, and that he would go next door in his slippers and pyjamas for a quick one before opening for business. Actually, he may merely have gone there for his breakfast. Apparently he was generous with credit, saying in his Scottish accent: 'You canna farrrm on a shoestrrring.' He lent considerable sums of money to struggling farmers, but if the announcements in the Kenya Gazette of liens on the estates of the deceased are anything to go by, the bank did not lose money. Shaw was well respected in the community of 900 (in 1911), and he busied himself in local affairs, becoming a JP, sitting on the committee of the Eldoret European School (KG 17 July 1918) and becoming the presiding officer for Plateau South at polling stations after the franchise was extended in 1919.
He had a daughter on 12 January 1915, proudly announced in the weekly journal South Africa. The Standard Bank of South Africa agreed to his transfer to Nairobi in 1920. It may be that Shaw was thinking of his children's schooling (he had at least one other daughter), or that the promotion to manager of the Nairobi branch was more lucrative. He continued to play a part in public affairs, until his death on 26 April 1937 and burial in Forest Road cemetery. His wife Nellie stayed in Kenya until her death on 30 June 1949. She was well known for her culinary skills and at charitable functions her cake stall quickly sold out. The Shaws were most influential in the early development of Eldoret. Without the bank's generosity, farming and commerce in the region could have been a very different story. Under Shaw's aegis Eldoret grew to become a prosperous town.