One of the first white residents in the Trans-Nzoia region was Arthur Cecil Hoey. Who was Hoey? He was born in Wimbledon in 1883 and baptised on 12 October that year, the son of John Hoey and his wife Matilda Jane, née Tront, who came from Dublin. In 1891 the family was living in Knaphill near Woking and Arthur Cecil had an older brother John and a younger brother William Henry. There was also an older brother Alfred Ernest who had left home, and who was later to join Cecil in East Africa in 1905 (he died in Nairobi in 1926), as did the younger brother William (who died at Naivasha in 1960). Their father John was working as a clerk. After education at Farnham Grammar School, Cecil had an adventurous youth. He was apprenticed to a sailing boat and went to sea. When his ship reached South Africa he left it to fight in the Boer War's closing months. He stayed in South Africa when the war came to an end and learned something about breeding horses. He then embarked for East Africa, where he took up big-game hunting in 1904. He trekked through the Uasin Gishu plateau to the Nzoia River, marvelling at the huge herds of game, and becoming a proficient lion hunter. The American writer W.S. Rainsford sought him out to accompany him on a year's safari to the Sergoit river. Since ivory hunting brought the greatest profit, Hoey shot many elephants until he had made a sizeable sum.
In 1909 Cecil trekked from Nakuru to Addis Ababa, through unmapped country. The maps he made were given to the Royal Geographical Society, of which Cecil became a member. He also indulged in land dealings in the Plateau region for other potential settlers, setting up an estate agency office in Eldoret. One of his clients was John Frederic Wright, who brought his daughter Gladys to East Africa in 1913. Hoey fell in love, followed the family back to Britain, and married Gladys May Avery Wright at St Paul's, Frimley, on 23 June 1914. Her family was of independent means, being owners of Wright's coal tar soap. Cecil took Gladys to East Africa, but their life together was interrupted when the First World War broke out. Cecil joined the East Africa Transport Corps, and was given the rank of temporary lieutenant, and then temporary captain (1917).
After the war Cecil started farming seriously, at first near Sergoit rock, and later in the Cherengani Hills, where he established his farm Kapsirowa (later bought by the Duke of Manchester). There he grew maize and sisal and built up a herd of pure-bred Frieslands. He went into a farm partnership on the Plateau with Denys Finch Hatton. Cecil then moved to Sageru, where his beloved horse Sea Eagle carried him around every morning. He became a Steward of the Kenya Jockey Club, for racing was one of his primary interests. And we find him acting as best man at the wedding of Beryl Clutterbuck, a keen horsewoman, and Mansfield Markham.
In 1916 he was made a member of the War Council in Nairobi. Although not greatly interested in politics, he stood for the Plateau North constituency of the Legislative Council and was returned as a member several times. He was a member of the Kenya Land Commission and also served as chairman of the Game Policy Committee from 1939, where he was instrumental in the establishment of national parks.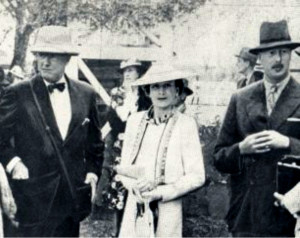 Hoey (left) with the Duke and Duchess of Gloucester
When the Second World War broke out Cecil was put in charge of Army Welfare in the East African Command; for his services he was appointed to the OBE. But it is not so much for this that he is known, but for the settlement of Hoey's Bridge. He built the bridge to drive his ox teams over the Nzoia river, and a settlement grew up around there – it is now a small town and the name changed to Moi's Bridge after independence. Hoey was a big man physically. Elspeth Huxley described him as a burly man, rather slow of speech, with a quiet humour and strong fixed opinions. He was gregarious, convivial, friendly, bespectacled. The East Africa Natural History Society published two of his works – Lake Rudolph and Some Notes on the Haunts and Habitats of the Elephant on the Guas Ngisho Plateau.
Cecil's heart trouble forced the Hoeys into retirement at the coast, at Nyali. Cecil had one last trip to England in 1955, and he died from an aortic aneurism at Mombasa European Hospital on 11 February 1956. There is a plaque at Mbaraki cemetery in Mombasa, but Hoey was buried at sea, according to his wishes, the day after he died. He left effects worth £7,815.16s.8d.