The Wild 'Uncle Charles'
Charles William Lloyd Bulpett, known to all as 'Uncle Charles', arrived in East Africa from Sudan with Sir Northrup McMmillan on a shooting safari in 1904. He had already had a wild, eventful youth. As a young man in the 1880s he swam the Thames at Greenwich in a frockcoat, top hat and cane, for a wager of £100 to £25. He ended up over a mile downstream, but had reached the opposite bank. He then swam the Hellespont, like Lord Byron, and climbed the Matterhorn and performed mountaineering marvels in Mexico. There he became enamoured of a siren, 'La Belle Otero', who denuded him of over £100,000. Yet his father was a banker, so that probably did not matter all that much and in any case, he said, she was worth every penny. 
Karen Blixen was very fond of Uncle Charles. She found him 'unusually nice and amusing… He reminds me so much of Uncle Laurentzius in his younger days, but is more brainy and has had such an interesting life.' She was pleased to have an intelligent person to talk to and borrow books from, in French and English. Once she asked him if he would like to live his life again and he replied with the greatest enthusiasm 'Oh, every moment of it!' He had told her: 'The person who can take delight in a sweet time without wanting to learn it, in a beautiful woman without wanting to possess her, or in a magnificent head of game without wanting to shoot it – has not got a human heart.' 
Bulpett was born on 18 August 1852 in Chertsey, Surrey, and was educated at Rugby and Trinity College, Cambridge. He trained as a barrister and played cricket for Middlesex and Hampshire. At school he was also a noted runner, and at Cambridge he gained a double blue, in rugby and athletics. If that was not enough, he was a proficient fencer, boxer and wrestler, taking on the professional champion John Graham in public. When the sport of big-game hunting beckoned, he made annual trips to Africa and then joined Northrup McMillan on his hunting safari down the Nile in 1904.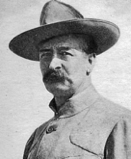 'Uncle' Charles Bulpett
The party ended up in Kenya, which both McMillan and Bulpett loved. McMillan built his farm Juja at Ol Donyo Sabuk and the house 'Chiromo' in Nairobi, and there Bulpett lived, as 'a professional house guest'. In 1907 he also found time to write a book: A Picnic Party in East Africa. He was a wonderful host and was much admired by Bror Blixen, Karen's husband and a fellow big-game hunter. Retired in the 1930s, he still drove his car every day and played bridge every evening. At a party in Muthaiga in 1933 he had just reached his eightieth birthday but seemed the youngest of everyone there. When he finally died in Nairobi on 11 July 1939 he was buried in Forest Road Cemetery. His gravestone reads: 'The spirit which itself diversely drapes/ in plant or animal in myriad shapes/ Deem not that it can die/ The essence still abides/ The visionary form escapes.' 
Some of the information in this blog came from Peter Ayre's database which it is hoped will be published on the web this year.