Hunting with Hounds in Early Colonial Kenya
Early British settlers in Kenya brought with them a favourite hobby of the upper classes – hunting with hounds. A small pack of English foxhounds was imported from India by George Hammond Goldfinch, who settled in British East Africa in 1904 from South Africa. He had formerly been a MFH (Master of Foxhounds) in England.In 1907 he was appointed game ranger for the Nakuru District. He presented James L.M. Elkington with some of his hounds when he left Nairobi, keeping a small pack of 19 for himself to hunt in the Nakuru district. The Governor Sir Donald Stewart also imported five couples from England, and in June 1908, Lord Leconfield presented Goldfinch with another five couples.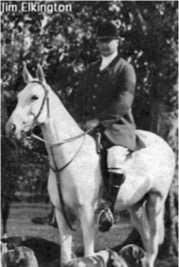 Jim Elkington
By 1912 Jim Elkington had 30 couples of foxhounds, called the Masara Hunt, which met on Sundays at its kennels a few miles from Nairobi. Wearing his scarlet Savile Row coat and leathers, Elkington was the MFH. Elspeth Huxley, a witness, described the sight: "It was a proper hunt with a red coats, huntsmen's caps and a 16 hand English hunter ridden boldly up and down the steep Kikuyu ridges by the master.  But here the resemblance to the English sport ceased. The quarry was a jackal or a duiker and the meet was held in the half light of dawn for scent only lay on the ground while the grass was wet with dew. The country, according to English standards, at first seemed rather strange. At one moment sportsmen were pushing their way through the tall thick grass, at another halted by some paw paw trees until roused by a 'view halloa' executed in classic style and an excited cry of 'There they are, running like hell among the bananas!' There were pig holes to fall into instead of ditches and sometimes the hounds were deflected onto the line of a porcupine or a bustard."
Masara house, in the Kabete area, in 1906 had three rooms with an eight-foot veranda all around the ends; the back was divided into smaller rooms. Masara was a typical example of an early colonial style of settler dwelling, with animal skins lining the walls and a muddle of riding crops and other bits of saddlery waiting to trip you up. There were cats and dachshunds and a caged parrot on the veranda.  Coffee grew almost up to the front door. A pet black-maned lion called Paddy, a present as a cub to Mrs Elkington from Lord Kingston, roamed about, but eventually had to be caged and exiled to Naivasha after attacking a friend of the Elkingtons, Beryl Markham. When the Huxleys went to stay at Masara in 1913 the stables were better built than the living quarters. A visitor described them: 'The kennels (presented by Captain Riddell) are of stone, well ventilated and dry…The stables at Masara are built of bamboos, the roofs being thatched with the strippings off stems of the banana tree; they are beautifully cool and waterproof. 30 syces and about 30 other boys are at present employed; the former have their own shamba land and live on the property.'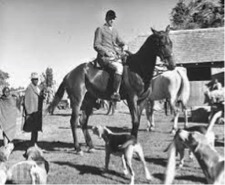 'Masara Hunt, Nairobi
Mrs Rachel Elkington (always known as Mrs Jim) had one child, Margaret, who never went to school but was very knowledgeable about horses and hounds. Mother and daughter paid scant attention to fashion, wearing ankle-length skirts of khaki drill and blouses buttoned up to the neck. Jim was rumoured to have a roving eye and he died of gunshot wounds on 22 February 1925. They were supposed to be self-inflicted, but the gossip was that he had been murdered by a married lady. The hunt became defunct.