In 1932 a writer identified only as JW wrote a tongue-in-cheek article about the evolving language of Kisettla, spoken in Kenya by settlers as they attempted to communicate with their African neighbours and staff.  The article first appeared in the East African Standard and was later published as a booklet with illustrations by DSW.
Here are some excerpts.
This text book on a most interesting language was prepared ten years ago, but withheld from publication in order that further research might correct, or vindicate, its tenets. In a decade, more idioms have been registered but only a few exceptions to the grammar…
            A superficial scrutiny might lead one to suppose that Kisettla was unformed, varying with the wit, or lackwit, of the speaker. This is erroneous; years of study have proved it to be constant; following definite rules of grammar and syntax, with an idiom peculiarly its own…
            I must acknowledge with gratitude the assistance given me in the compilation of this work by many friends who have so readily, and often unconsciously, made valuable contributions. Space, and certain sections of the penal code, alone prevent me from mentioning them by name.
History
Kisettla, or 'mimi-kupiga-wewe' Swahili, is believed to be derived from Kiswahili or 'watu-wale-wawili-walipokuja' Swahili…
Grammar
The Article
If any, as in English, e.g. 'hapana sahau the viazi.'…
The Adjective
Few in number and invariable in form. Generally mingi, mbaya, mizuri, kubwa, yote and kidogo can be eked out with British profanity.
Adverbs
Sana, kabisa, polepole, tu.
Personal Pronouns
Mimi, wewe and (rare) sisi. These are worked to a standstill; the use of others is skillfully avoided.
Possessives
In the purest dialect, only yake, meaning 'your' except in the phrase 'peke yake' when it means 'by yourself, ' by myself,'  'by his, her, its, their, our or yourself or selves."
Demonstratives
'Hii.'
Numerals
Surprisingly, the same as those in Kiswahili, but of course all invariable and distinctly rocky after 50. It is this resemblance to Kiswahili that confounds the critics who maintain that Kisettla and Kiswahili are unrelated, or even mutually antagonistic.
Conjunctions
'Kama' for all conjunctions, conditional tenses, etc. The interrogatives 'lini?', 'wapi?', 'nani?', and 'nini?' are used without question temporarily, relatively and eternally.
Verbs
a. Positive. Found in infinitive, imperative and first person singular, present indicative only. Past tenses can be formed by prefixing 'kwisha' to the infinitive, but this is rather pedantic and to be deprecated.
            b. Negative. Two instances only. 'Sijui' and 'hapana' and very adequate, too. E.g. 'Sijui wewe iko chai?' 'Hapana.' 'Nataka ingine?' 'Hapana.' Meaning. 'I can't see from here whether your cup is full.' 'I have just this minute emptied it.' 'May I give you some more?' 'No, thank you.'
Idioms
A few phrases must be classified as idioms as there is no other possible explanation for them.
 'Iko' is 'have.'
'Hapana' is 'have not.'
'Tembea' means 'run.' Failure of workers to grasp this has often led to painful misunderstandings…
'Tengeneza' means to do anything to anything.
'Shauri' means anything. Thus, 'tengeneza shauri' will run your farm, your business and your car and will solve all problems of domestic life.
The idioms may best be illustrated by quotations from the mouths of experts…
'Tia scones ndani oven and lete chai pot.' (Does not need translating)
'Kamata mpira wapi sisi cheza.' Meaning: 'Take the tennis balls to the tennis court.'
'Kuenda kitanda, leta saa.' Meaning: 'Go to the flower bed and bring some thyme.'
'Mimi hapana kuzaa jana.' Meaning: 'I wasn't born yesterday,' spoken by a lady to her house help, meaning she could not be easily deceived.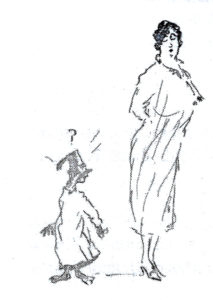 'If wewe aren't mizuri to mimi, I won't be mizuri to wewe.' Meaning: 'Do as you would be done by.'
'Piga bacon mingi sana, lakini hapana piga mingi sana.' Meaning: 'Cook a lot of bacon, but don't burn it to a cinder.'
            It will be noted that the rules are few in number and very simple, but the language based on them is amply sufficient for all the needs of daily life. Its adequacy, its terseness and its extraordinary simplicity may best be illustrated by the portion of a speech translated here below into good Kisettla.
            A Distinguished Visitor (DV) is saying a few words to the workers assembled on a large estate. The Manager has kindly consented to translate.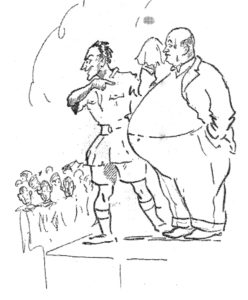 The DV: '…and in conclusion I would reiterate the pleasure it has afforded me to observe the happy relations existing beween the employers and the employed on this estate. I can only hope, however, that cultivation in the African reserves is advancing pari passu with European development and that before long we may see Africans contributing to the export of the colony in the same ratio as they consume its imports."
            The manager's translation into Kisettla: '…Bwana Tumbo sasa nachoka nasema mizuri wewe rafiki mimi rafiki and he hopes wewe kufanya kazi hapa shambani until kila kitu is mizuri kabisa.'
 Thanks to Bruce Rooken-Smith who published this article in the June 2017 issue of Sitrep, the publication of the Kenya Regiment Association.