My last blogs have been concerned with the role of European women in Kenya, particularly in World War 2. It has become clear that a leading role was played by Lady Sidney Farrar. Who was she? She was the daughter of the 7th Earl of Buckinghamshire, who boasted the names Sidney Carr Hobart-Hampden-Mercer-Henderson. He must have been hoping for a son when she was born on 17 April 1900, for he called her Sidney (also Mary Catherine Anne). She grew up at the family seat at Great Hampden, Buckinghamshire, but her early life is something of a mystery. She appears in the 1901 census, but none of the family (she had an elder brother and sister) appears in 1911, so they must have been abroad, possibly in India. The next we hear of Sidney is that she joined the First Aid Nursing Yeomanry (FANYs) and served in France in World War 1. We hear nothing more of her until her marriage on 14 January 1924, to Captain Thomas Innes Farrar (born in British Guiana on 17 June 1896). We do know quite a bit about Thomas. He came from a family prominent in the religious life of British Guiana and the West Indies. His father Walter became Bishop of Antigua and of British Honduras. Thomas volunteered for active duty in 1914 and was commissioned into the 5th Battalion of the Royal Devonshire Regiment. He won the MC in the military campaign in Mesopotamia.
After their marriage at St George's, Hanover Square, London, the Farrars moved to Kenya. They first appear in the voters' roll for Rift Valley in 1926, with Thomas described as a planter living at Mau Summit. They had a son in 1927, Thomas Ewen Farrar. But Sidney's husband had been gassed in World War 1 and his health failed. When he died at Kisumu on 21 October 1934, Sidney remained on her farm in Kenya with her son. She was an indomitable woman and had decided to start a branch of the FANYs (First Aid Nursing Yeomanry) in Kenya. From 1932 she toured schools, encouraging girls to join, offering them camping and adventure at her farm, Pele, at Mau Summit. The first training camp was held at Mau Summit in 1932.
Lady Sidney also busied herself in politics, standing for Kenya's Legislative Council in 1937 and being elected for Rift Valley, defeating Conway Harvey by only two votes. She was LegCo's first woman member, and she spoke up on such matters as alien immigration. She held the Rift Valley seat until 1942.
By 1939 Sidney had recruited seventy women to the FANYs. Ironically, they were drilled and marched by a German woman, Sergeant Hessflueger, who was interned after the outbreak of World War 2. Recruitment shot up and by the end of 1940 the Kenya FANYs numbered 700-800 members, all of them local women. Since they were no longer nursing, but pursuing other useful occupations, their name was changed to Women's Territorial Service. They acted as transport drivers with the Northern Brigade of the King's African Rifles, they guarded 100 enemy alien women and children interned at Mau Summit, and they were posted to Addis Ababa as part of the occupying force. About 100 of them served in the Signal Office in Nairobi and provided a despatch rider letter service, doing the same at Mombasa Fortress headquarters. One of the despatch riders was Juanita Carberry. At the end of the war the FANYs were disbanded. Lady Sidney Farrar gained the rank of Major and was appointed an MBE for her war services in 1941. She wrote the introduction to Our Saga 1939-45 Women's Territorial Service FANY (Nairobi, 1946).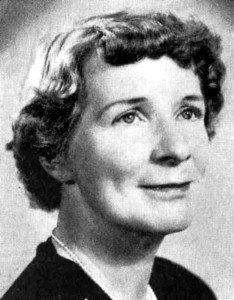 Sidney was also a prominent member of the East Africa Women's League, in the Molo/Mau Summit branch and was Vice-President at various times, ultimately ending as EAWL President (1953-4). During her tenure the EAWL was asked to take a census on the need for Primary day schools in rural areas; as a result of this several schools were opened, the first in Molo in 1954. She also became Chairman of the National Council of Women in Kenya.
On the death of his grandmother, Sidney's son Thomas Ewen succeeded to the Camperdown estate on the outskirts of Dundee, when he was ten years' old. Lady Sidney died in 1987, but I have been unable to find out where.