I'd like to return to the subject of Vladimir Verbi (see my blogs of February and December 2013), the missionary who shot his mother-in-law in the Taita Hills in 1941. To recap, Verbi was having trouble with his second wife, Lascelles, and forbade her going to a party in Voi. When she disobeyed, he angrily took his gun into the garden, because he was trying to deter crows from eating his strawberries. There is no doubt that Verbi was very proud of the non-indigenous crops he had introduced in his terraced garden at Ngerenyi – he pioneered strawberries, oranges and other fruit – and it was vital to keep birds off them. Verbi had retired as a missionary, having been in the Taita Hills since 1894. He had originally been at Wusi where he built a house (inhabited by Peter Bostock and his family in 1941, the year of the killing) and began a church, and later he constructed a road up the hill to Ngerenyi, where he built a house to live in when he retired in 1929. He had instructed the African labour he employed in the techniques of erecting houses in stone – indeed, he had started a Vocational School in Wusi. He lived in his retirement home for a couple of years (his first wife had died in 1928), and then again in 1933-4. He subsequently travelled and visited his native Bulgaria, but as war clouds gathered he returned again to Ngerenyi in 1939 with his new wife.
While Verbi was in the garden, he shot dead his mother-in-law, sitting on the veranda. She was on a visit from New Zealand to see her newborn grandchild, and was due to return home in a few days. After the shooting, which Verbi said was an accident, he was accused of murder and incarcerated in prison in Mombasa. There he was visited by Peter Bostock, who had been called by the District Commissioner to sit with Verbi and support him immediately after the shooting. Upon appeal, Verbi was freed on a technicality – apparently his wife's comments when she initially thought her husband had killed her mother were erroneously used in the original trial. Verbi went back to Ngerenyi where he lived until his death in Mombasa hospital in 1956.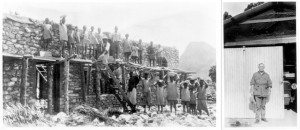 Building the house at Ngerenyi, and Verbi in 1927
Verbi's second wife, Lascelles Leary Corrigan, had been born in New Zealand in 1911 and was taken to Lewes in England when she was five, arriving in London in December 1916. We know that she was taken from Liverpool to Canada in December 1918 on the ship Grampian, possibly on the way back to New Zealand, with her mother, who had been visiting her son Leonard, wounded in World War 1. Mother and daughter had spent the summer of 1917 on the Isle of Wight (Evening Post, 16 January 1918). Lascelles was a feisty person, with spirited views, not always easy to get along with. She sailed from Wellington, NZ, to London in April 1937 and it was on this voyage that she met Verbi. The missionary's good looks, bushy eyebrows and jolly manner must have impressed her, and they married in Farnham on 3 June 1937 when Verbi was 63 and she 36. The age gap of 27 years could have posed a problem.
Lascelles did not abandon Verbi after the trial, for by then she must have believed that the shooting had been an accident. The pair had one small daughter, Mary, born in 1938, and they subsequently had another daughter, Florence, named for the deceased mother-in-law. From his first marriage Verbi already had three sons, now grown up. Who was Lascelles' mother, whom Verbi shot? She was Florence Lucy, née Giesen, born in New Zealand in 1869, one of the eleven children of Edward Giesen (1842-1906) and his wife Margaret Austin. Edward was a hosier and draper in Wellington, and not an entirely successful one because he was bankrupt in 1868. Florence married Richard Leary, a chemist with a shop in The Square, Palmerston North, in 1887. He had been born of an Irish family in Australia in 1846 and went to New Zealand in 1863. Richard Leary and Florence, who lived above the shop, had four sons, two of whom died at the age of three. One of the sons, Ernest, was killed in World War 1, leaving only Leonard, born in 1891. Another blow to Florence was the death of her husband Richard in 1901. She struggled on for nine years raising her two remaining sons, and then she married again, in 1910, in Dunedin. Her new husband was Dominic Hareward Lascelles Corrigan (1874-1962). They lived at Sea View, Remuera, Auckland, NZ, and later at Tauranga, Bay of Plenty. Their daughter Lascelles was born a year after the marriage, when her mother was 47.
I have tried to tell the story of the woman who died in this unfortunate affair, lest she be forgotten. She had two successful marriages, six children, two of whom survived, and a pleasant home in New Zealand. Her sudden death must have been a shock to her husband Dominic and her son Leonard. Her son, Leonard Poulter Leary, CMG (1891-1990) became a well-known lawyer in New Zealand, and wrote three books, one of them the story of his life – L.P. Leary, Not Entirely Legal, 1977. He was a QC and great raconteur. The jury, he said, 'must be converted in small, simple steps to the point of view a lawyer desires them to adopt.' Florence's daughter Lascelles remained in Kenya after Vladimir Verbi died, farming at Thomson's Falls. She died in 2007, at the age of ninety-six.