Mystery of Italian Inscription at Longido Solved
by Annamaria Alfieri
The first step in this quest belongs to Old Africa Magazine.   A few years ago, as a new subscriber delving into back issues, I came across—in Number 12—a photo of a rock wall in Longido Tanzania.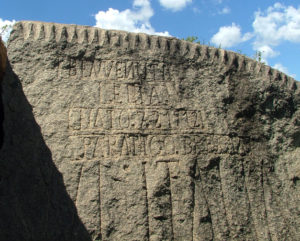 Rock wall in Longido with Italian inscription. Local history says the rocks were bunkers for German guns in World War I, which led to some of the misunderstanding of how the Italian words came to be written on the rock.
An inscription chiseled into that stone presented an intriguing mystery: why were those words there and who had taken the trouble to turn the wall into a monument?  On the most basic level: what did the words mean?
Old Africaoffered a prize to anyone who could decipher the inscription.  The letters were reproduced on the magazine's page:
BENVENUTA ELIA NATO  7.2.1912 PARATICO  BRESCIA  WL ITALIA WRE
 Below were some equally unclear numbers:
 26 3 43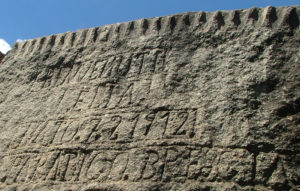 Closer view of rock inscription in Longido.
 But the meaning of the words was plain to anyone who reads Italian.  Or so I thought. "Benvenuta" means "welcome" to a female.  But that did not go with "Elia," which is a man's name in Italy.  So the inscription must actually begin "BENVENUTO."  A close look at the photo confirmed that the Old Africa photo was not exactly clear. 
"Nato" means "born" in the masculine.  Paratico is a town in Italy in the Provincia of Brescia.  What looked like a W, in Italian stands for doppio V—double V.  In this context it means "Viva." Re is Italian for "king."
So I read "Welcome, Elia, born 7 February 1912 in Paratico, Brescia Long Live Italy Long Live the King."  
The carved words seemed to be a birth announcement.  I sent my translation to Shel Arensen, Old Africa'seditor.  He published my letter.  That was that.
But questions about baby Elia haunted me. Who had put his name and date of birth there?  And why?
The first glimmer of the real truth came in a comment on a blog I wrote on the subject.   A reader named Lorenzo Colombo suggested that in addition to meaning "welcome," Benvenuto is a relatively common Italian surname. He suggested that the baby born in 1912 was named Elia Benvenuto. And further posited that the numbers lower down indicated the date the inscription was made: 26 March 1943, which would coincide with a time when Italian soldiers were being held prisoner in Tanzania.
With these possible interpretations, an absolute compulsion gripped me.  I had to get to the bottom of this.
After of few vain attempts to find the truth through the keepers of birth records in Paratico, a path to the answer finally dawned on me. This mystery might very well intrigue a journalist in Brescia, who might publish my question, which could lead to someone still living in the area who knew the person I had begun to think of as my Elia.  So, while in Italy this past June, I searched the net for such a publication and wrote a query to BSNEWS.it.  Twenty minutes later I had an answer from Andrea Tortelli, a journalist in Brescia, who immediately became as fascinated by the story as I.  He told me that Benvenuti (with an I) was a common surname in Paratico.  He then took the baton, and we were off on a swift race to the finish line.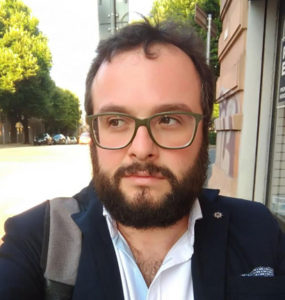 Andrea Tortelli, Italian journalist.
His piece in the online newspaper found and engaged an Internet chat group called Sei di Paratico se… (You are from Paratico if…).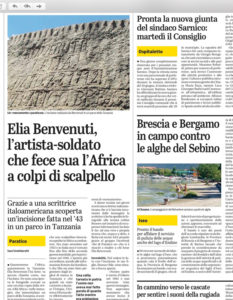 Online newspaper that led to discovery of identity of the man who inscribed his name on the rock at Longido.
Within hours, we knew that Elia's two daughters still lived in Paratico. Andrea interviewed one of them. Within a couple of days, we had a photo of the man himself—which Elia's son-in-law scanned and sent to us.  Here he is in a photo taken in Africa while Elia served with the King's Army Corps, Colonial Somali Troops.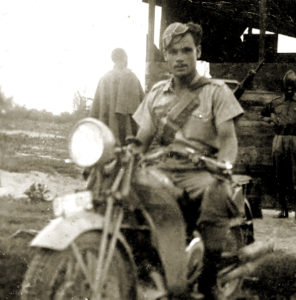 Elia Benvenuto in the King's Army Corps, Colonial Somali Troops.
Elia Benvenuti was born in Paratico, in the province of Brescia, on 2 July 1912.  (His inscription shows his birth date in the English, rather than the Italian format, likely because he knew it would be read by English people.)
At age twenty, he asked his mother to sign permission for him to join the military a year before he reached legal maturity.  He was posted to Africa in 1932 and served in Eritrea, Somalia, and Kenya.  At some point after the outbreak of World War II, he was taken prisoner by the British and sent to Tanzania. Undoubtedly, he made the inscription while there.
Sometime afterwards, he was transported to Great Britain and eventually repatriated. Back in Italy, he became a stonecutter in the local sandstone quarry—as were most of the men in the Paratico area in the early and mid-twentieth century.  He married and had two daughters. He died prematurely in 1963 of a heart attack, which his family believe was brought on by the ravages of war, his work, and many, too many cigarettes.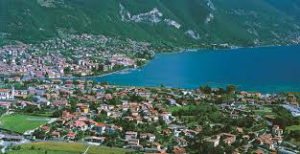 Aerial View of Paratico, Italy.
His daughter Ilde describes him as a special person—sociable, outgoing, and adventurous. "Paratico was too small for him," she said. "He loved Africa and always hoped to return. But he had bad memories of his treatment by the English." He often told his family amusing, and sometimes disturbing war stories. Once, he was trying to make a roadside repair of his motorcycle. He had disassembled the nonfunctioning gearbox when an ostrich came along and ate some of the pieces.  There was a time when he was lost in the desert for three days. Toward the end of that trial, distressed and fearful that he would not be rescued, he kept his pistol loaded and ready in case he needed to shoot himself rather than suffer a horrible death.
Fortunately, his fellow soldiers found him in time.  And so today Benvenuti's story lives through his daughters and grandchildren.
He never told his family about the inscription he left behind, but his daughters say that it was in his character to do such a thing. That he wrote "VV RE" was also in keeping with his sentiments—expressing loyalty to the King, not to fascism. His daughters were stupefied and completely delighted to learn for the first time that their father had left his mark on a wall in such an exotic place.  "Who would have thought?" Ilde Benevenuti said.  "On first seeing the inscription I thought my father was a bit of a megalomaniac to carve his name in stone.  I don't know why he did it, but he truly loved Africa and must have wanted to leave his imprint in the heart of the continent. Certainly my father was a romantic character. He would be charmed by the all the attention he is getting now, with the news of the rock in Tanzania."
For me, solving the mystery takes nothing away from the romance of that lone Italian prisoner who chiseled his existence into stone and left his own monument for us to wonder over and contemplate seventy-five years after he made it and more than a century after his birth.
VV Elia!
Annamaria Alfieri writes a series of historical mysteries set in Kenya beginning in 1911.  She is grateful to Andrea Tortelli of Brescia and Nicoletta Pini of Florence for their essential aid in this quest.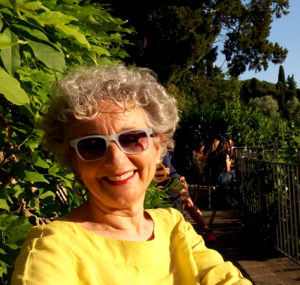 Nicoletta Pine of Florence who helped Annamaria Alfieri in her quest.