Princess Elizabeth becomes Queen in Kenya
 Upon their marriage in June 1947 Princess Elizabeth and Prince Philip acquired one of their more unusual wedding presents: Sagana Lodge, at Kiganjo near Nyeri, given by the people of Kenya. In 1952 they went to Kenya to stay in their house and visit Treetops game lodge nearby. Up a tree, in the middle of a tropical forest, Princess Elizabeth became Queen when her father died during the night of 5-6 February 1952. She was not told about his death until 11.45 a.m. (2.25 p.m. local time) on 6 February, when the couple were back at Sagana Lodge. In fact her father was not found until 7.30 a.m. when a valet realised he was dead in bed. The first news of his death was heard by a news reporter using a telephone box outside the Outspan Hotel in Nyeri to report the Royal tour. He telephoned Sagana Lodge, but the Princess could not be told until official confirmation came through. The royal equerry at Sagana telephoned Buckingham Palace to make sure of the death and the Palace was shocked to find that Elizabeth did not yet know the news.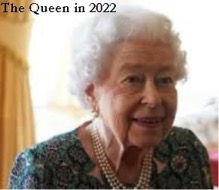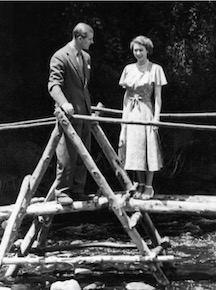 The Queen in 2022.                          Prince Philip & Princess Elizabeth
There had been problems relaying the information to Kenya. The trouble was that the Palace's telegraph to Government House in Nairobi was in cipher and the cipher books had been taken to Mombasa, to the ship Gothic, on which the royal couple were about to embark to Australia. No one could decipher the telegram at Government House. It was decided that Elizabeth would nonetheless be told the news, and Prince Philip informed his wife she was Queen during a walk in the gardens of Sagana Lodge. Arrangements had to be made for the couple's immediate return to London. Numerous telephone calls had to be made, and the hugely increased phone traffic was dealt with magnificently by the Kikuyu telephonist at Nyeri. Kathini Graham, the Governor's secretary on the spot, told me that she managed to get through to the new Queen's dresser in London to arrange for a black hat to be ready at London airport, to be taken onto the plane on its arrival. A black dress, packed for Anzac Day in Australia, was found in the royal luggage.
At 5.30 p.m. the royals left Sagana and were driven to the airfield at Nanyuki. It was almost dark as the Dakota plane was to take off, and flares were prepared around the airfield to assist its departure. However, it was decided not to light them as the grass was very dry. The plane landed safely at Entebbe, where a BOAC Argonaut plane had been emptied of its passengers, to convey the couple to London. Unfortunately, a sudden electrical storm and 50-mile-an-hour gale with lashing rain swept Entebbe. It was too dangerous to take off until 11.05 p.m. The RAF made arrangements for rescue aircraft along the route. At Nairobi, Juba, Khartoum, Wadi Halfa and El Adem aircraft carrying desert rescue equipment stood by. A Lancaster from Malta, carrying a lifeboat, patrolled the Mediterranean, and a similarly equipped plane patrolled the English Channel. There was no need to use any of these because, after a refuelling stop at El Adem, the Argonaut arrived safely in London and the new Queen began her reign, now a record 70 years long.