World War I  Old Africa Battlefield Tour
Taita-Taveta August 2014
 Part One – Voi
 We met up in Voi on Saturday afternoon, August 23, 2014, with other members of our Old Africa group touring the World War I battlefield sites in Taita-Taveta. James Willson, author of the book Guerrillas of Tsavo, a richly illustrated volume of history focusing on the war in that area, met us and took us first to the Commonwealth Graves Cemetery in Voi. James explained about the beginning of the war and how the rail line, with a station at Voi, was vulnerable to sabotage from German forces coming in from neighbouring German East Africa. After wandering up and down the rows of white headstones and reading the names of the young men – so many young – the reality of the cost of war set in.
            We stopped briefly at an open field where the tents for the Carrier Corps would have been set up for the thousands of African porters required to supply the British troops. These soldiers were stationed in the bush in Maktau and in other camps and forts to form a line of defense for the railway. Eventually a rail line would be put in to Maktau and all the way to Taveta, but at the beginning of the war in 1914 all supplies and much of the water went to the troops on the heads of African porters. Without their service, the soldiers on the front lines couldn't have survived.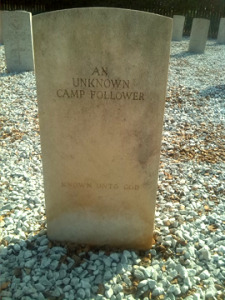 We drove from Voi to the Taita Hills in the late afternoon, the sun creating long shadows on the red rough road. Bumpy as the ride was, I kept thinking what it would have been like travelling that road on foot with a sixty-pound load.
            We checked into Taita/Salt Lick Lodge in time to see the elephants that had come to the watering hole and salt lick in front of the lodge.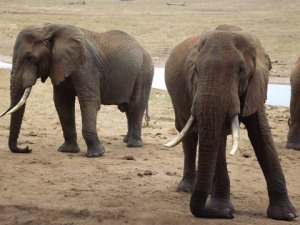 We felt pampered in comparison to the soldiers and porters who had occupied this area 100 years before us. James Willson told us about a group of raw recruits who had just arrived in East Africa. On their first night in the bush they had bunkered down under temporary grass shelters and been woken up in the night by elephants eating the grass off their roofs and slithering their trunks into the sleeping area and touching – but not harming – the soldiers. The soldiers didn't get much sleep that night!
            By contrast, we enjoyed a good meal and a comfortable bed as we rested up for the travels James Willson had planned for our next day.
            To be continued…