Talbot Mundy
Everyone has heard of Rider-Haggard, but there was a contemporary novelist of almost as great renown who spent years of his life in Kenya – Talbot Mundy. His most famous book is King of the Khyber Rifles, and he also wrote 47 bestsellers and scores of novelettes, short stories and articles. He was a bit of a fantasist in his personal life, as well as on paper. He was born on 23 April 1879 in Hammersmith, London, as William Lancaster Gribbon, the son of an accountant. He won a scholarship to Rugby School and while he was there his father died suddenly. This caused him to leave Rugby without any qualifications, in 1895. On a trip to India working as a Daily Mail reporter, he met Kathleen Steele, whom he married in 1903. The pair then fled to South Africa to evade their creditors, and they ended up in Mombasa in 1904. Like many of his contemporaries Gribbon engaged in elephant hunting in British East Africa, an activity he fictionalised in his later book The Ivory Trail.
Calling himself 'Sir Rupert Harvey, Baronet,' Gribbon killed more than 50 lions and acquired a herd of 4,000 cattle bearing the brand of an official entitled to own only two. He was arrested and sentenced to six months' hard labour. After his release he worked on road construction and, somewhat surprisingly, was appointed town clerk of Kisumu. When he pursued and shot a rogue elephant that had been destroying villages, the beast fell on him, breaking his collar bone, shoulder and ribs. His African companions carried him to a local faith healer, Oketch, who tied him so that he could not move. A month of immobility followed, while Oketch tended him. The bones set well. Gribbon thought it strange when Christian missionaries urged him to supply clothes to the local Africans, who often preferred nakedness, but he did devise a goatskin apron for the purpose.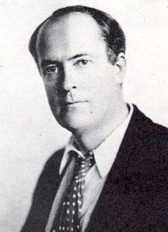 Talbot Mundy, born William Lancaster Gribbon
Gribbon was unusual in that he had affairs with several African women and the resultant scandal cost him his job. He told his wife Kathleen that he was now 'Thomas Hartley' or 'Lord Hartley'. She was having none of it and used his affairs to obtain a divorce. Now Gribbon attached himself to the notorious Inez Craven, wife of Rupert Craven. Inez married him in Mombasa in 1908 and on the register Gribbon used for the first time the name Talbot Chetwynd Miller Mundy, a moniker that stuck for the rest of his life. He claimed he was the illegitimate son of the Earl of Shrewsbury. The couple sailed for England, where Talbot found that his mother, disgusted by her scandalous son, had cut him out of her will. He found menial work on a newspaper, but even that fell through when Inez, drinking to excess, smashed the windows of the newspaper office, supposedly on a suffragettes' march.
Pastures new beckoned and the couple sailed for America. It was there that this adventurer made his name, writing as 'Talbot Mundy.' He started to write yarns for magazines and became very successful, basing many of his stories on his experiences in Kenya and India. His wandering eye caused Inez to divorce him, and he met a Christian Scientist and portrait painter, Harriette Rosemary Strafer. Marriage and a more settled life allowed Mundy to write novels and his third, King of the Khyber Rifles, hit the jackpot in 1916. His well known The Ivory Trail, which started out as On the Trail of Tippo Tib, was set in British East Africa before the First World War and concerned three Englishmen and an American who search for a cache of hidden ivory. In Mundy's later years he experienced another two divorces and marriages, and a belief in theosophy and mysticism. Novels poured from his pen, and often hinted at his contempt for empire and white supremacism. He became a very well known writer and earned several obituaries when he died on 5 August 1940, aged 61, of myocardial insufficiency brought on by diabetes.
The database of Europeans in East Africa 1880s-1939 is now available on the internet at http://www.europeansineastafrica.co.uk
www.csnicholls.co.uk and http://www.europeansineastafrica.co.uk