The Chimp who Typed his Name
Many Colonial Service staff could be described as eccentric, but one who surpassed others in this respect was Geoffrey Brisco Rimington, variously known as 'Rim'. He had originally been a 'Mountie' in Canada before the First World War broke out. He then fought in France as a liaison officer between the British and French. At the end of the war he took the exam to become a District Officer and was posted to Kenya in 1920. On disembarking at Mombasa he was astounded to see a man he had been chasing for years across Canada; of course, he went to have a drink with him. Then the raw recruit was issued with some safari equipment, a tent and a chop box and told to make his way to Meru. His job there was to assist the DC, the 'Shauri Bwana', to build roads and bridges and collect taxes. A later posting at Thika found him making the road from the foot of Karatina's pole pole hill in a straight line to Sagana, a road known for many years as 'Rim's road'. Other postings included Lokitaung, Kabarnet and Kapenguria.
It was at Kapenguria that Rim indulged his hobby – training wild animals. The first of these was a chimpanzee, and then he tried his skills on an ostrich, which he succeeded in riding and trained to pull a buggy. The chimp accompanied Rim to Malindi in 1935 where she was taught to ride a trike. At Isiolo Rim trained a Grevy's zebra to be ridden – an extremely difficult feat with these curmudgeonly and vicious animals. He took this zebra to play polo but all the horses took fright and ran away. The game was a washout.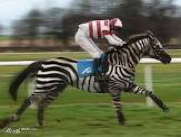 Twiga the giraffe was also trained to be ridden. At Wajir Lucy the chimp rode her trike, dragging a cart carrying Jeroge the colobus monkey, Sudi the terrier bitch, Tom the cat, Mr Gandhi the bush monkey, and a parrot. Lucy could also type her own name. It was a miracle that any governing was done, let alone the celebration of a marriage and the birth of human children.
On the outbreak of the Second World War it fell to Rim's lot to round up the Germans around Voi for internment. He held them in the dak bungalow at the railway station where they enjoyed beer in plenty. James Cooper described the scene: 'It was a convivial party that I interrupted and they welcomed me in. I wasn't sure that I ought to be drinking beer with Rimington's 'Bloody Huns' but they were most pressing – and promised they would put in a good word for me when the Third Reich took over in Kenya which would only be a matter of a week or two.'
Rim spent most of the Second World War running a riding school in Nairobi. He lived on the old polo ground where the new European Hospital was later built. As Tom Askwith said, 'Rim was a great animal lover – in fact he was a genius at taming wild animals and birds and teaching them tricks. Consequently, the house and buildings were full of birds and beasts of every kind. There were a couple of chimpanzees who drank from cups and ate off plates when they were not casting them on the floor like impatient children. There were parrots who hopped from chair to chair and made messes on the mats. The verandas were filled with cages where creatures of every kind twittered or chattered. In the yard a zebra was stabled, and this Rim, who was an excellent horseman, had managed to break in.' Before Rim died in 1952 he was awarded the Fellowship of the Royal Zoological Society for his work with animals. 
Some of the information in this blog came from Peter Ayre's database which it is hoped to publish on the web this year.
www.csnicholls.co.uk