The Donovan Maule Theatre
Many of you will remember Nairobi's Donovan Maule Theatre. My abiding memory is of us Kenya High School girls trying to persuade our headmistress, Miss Stott, to let us go to see Lock up Your Daughters there in 1960. She eventually relented. Who were the couple who founded the theatre? Donovan Maule was born in Brighton on 24 June 1899 and his wife Mollie was born in London on 24 June 1897. Both came from theatrical families and toured the country with their parents. They were married in 1920. Donovan Maule joined the army in World War II and ended his army career in Egypt as director of drama, Middle East Land Forces. He and his wife Mollie then sailed to Kenya. They docked in Mombasa on 4 September 1947 and made for Nairobi, but found that the theatres there had all been converted to cinemas during the war. They proposed to start a professional repertory company in Nairobi and began by doing a broadcast for Children's Hour at the Cable and Wireless transmitter at a tiny studio at Kabete. They had to make all their own sound effects. To make ends meet they began their own drama school using a space in front of the screen at the Capitol cinema. Their first play was The Dear Departed. The Theatre Royal had become the Cameo cinema but the Maules decided that this was a better venue for them, though they could only use it for matinees so that films could be shown in the evenings.
They began to build their own theatre in 1949 – The Studio Theatre, with 55 seats. They were able to tour to Nakuru and Nyeri. The venture was prosperous enough for them to hire a professional actor from England – Geoffrey Best. Frequent electricity failures plunged the stage into darkness, but the show went on, lit by candles. With the coming of the Mau Mau emergency, restrictions were imposed on touring – they had always to travel in convoy, never after dark and should always be armed. They took Bell, Book and Candle on their first full-scale tour of East Africa under these restrictions. The Studio Theatre was bursting at the seams, and a site became available, between Connaught and Jackson roads, near the Legislative Council building. There the new Donovan Maule Theatre was designed by the architect Frederick Wilkinson and was built, entirely with public subscription, and opened in 1958. The Maules engaged the great Sir Donald Wolfit to stage 'Scenes from Shakespeare', which I remember seeing with a group of girls from the Kenya High School.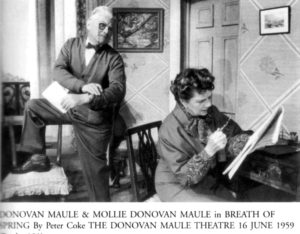 When independence came to Kenya in 1963 the Donovan Maule Theatre was five years old. The first African to appear on its stage was Joseph Kichure in The Miracle Worker in 1961. Joseph had been a house painter and had worked on the theatre's advertising frames dotted around Nairobi, before he became the chief electrician. Donald Kiboro, another African actor, was a success in A Man for All Seasons, in 1965. But things were disintegrating. The partnership of Donovan and Mollie was under strain. Mollie wrote of her husband: 'I have been completely loyal to him all these years and never discussed with anyone how absolutely impossible he is to work with. We cannot discuss the smallest matter of business without a row. Life is never on an even keel. He is either completely down with no energy for anything and utterly depressing to live with, or indulging in a grandiose schemes like buying the vacant plot next to the theatre and building luxury flats. It would be much more to the point if he stuck to his own job instead of letting everything get out of hand.' The health of both Donovan and Mollie was failing, for they were approaching 70.
The year 1970 saw both Donovan and Mollie's retirement. The theatre was taken over by their daughter, Annabel. The Maules moved to a house at Kisauni, Mombasa. Unfortunately the new Nyali bridge was built there, putting an end to their quiet haven and their country lane became a six-lane motorway. Donovan Maule died in Mombasa hospital on 2 March 1982 and was buried at Kisauni cemetery. The Donovan Maule Theatre closed in 1984 and was then subject to looting and destruction. In 1988 its empty shell was demolished, a sad end to an entertaining enterprise. Mollie Maule died in Mombasa in 1984. Kisauni cemetery, where Donovan and Mollie are buried, is now in a deplorable state, overgrown with grass and with a road running through it.
www.csnicholls.co.uk