Trout Fishing in Kenya
Kenya is renowned for its excellent trout fishing, but trout are not indigenous to the country.  They were introduced to Kenya rivers during the early years of the 20th century.  Lords Delamere and Colonel Grogan purchased a large consignment of trout ova from the Howietown Fisheries in Dumfries and sent them to British East Africa in the charge of one of the hatchery's employees.  It was not an easy journey and the storage on the ship was far from ideal. Then the ova had to be transported on the heads of porters over the Kinangop Plateau to the Gura river at 11,000 feet.  The first importation was financed by Ewart Grogan but when the trout were well established a subscription list was organized by Sir Frederick Jackson for further imports.  In 1919 the Kenya Angling Association was formed and it stocked other suitable streams with trout.  The Association's responsibilities were taken over in 1921 by the Game Department.  Captain Richard Edward 'Samaki' Dent, who had been appointed by the Association, moved into the Department to oversee the fisheries, and in recognition of its work the Association was granted a lease over the northern and southern Mathioya rivers for the exclusive use of its members. Dent was an interesting man — before World War 1 he had walked from the east coast of Africa to the west by the long route across the Congo. He then began coffee farming before being asked to look after fish.

Brown trout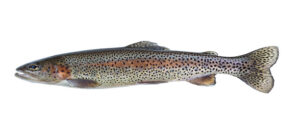 Rainbow trout
Several people had been instrumental in stocking the rivers.  In 1907 H. William Buckland imported trout for the Thika, Tana and Gilgil rivers.  Raymond Hook was responsible for stocking the rivers near Nanyuki . The first attempt to stock the Mathioya river was made in 1926, but this failed when the ova perished after a long journey over difficult roads.  Some months later 700 fry were brought across the Aberdare hills in tanks, but again none of them survived.  A new system was tried: canvas buckets with four trout to each bucket.  The swinging of the buckets kept the water aerated and this time 380 young fish were installed after paths had been cut through the dense forest to reach the stream.  The trout later multiplied and their descendants migrated to the lower reaches of the river. All this hard work in the early years of the twentieth century made Kenya renowned as a fishing destination. On one occasion my father, then teaching at Nyeri Primary School in the 1950s, fed the whole school with the trout he caught in one day's fishing.
By 1950 almost every river from Mount Elgon to the eastern slopes of Mount Kenya had been stocked with brown or rainbow trout, either by the Game Department or by settlers who wanted somewhere to fish.  A research station was established and fish fry were made available for the many angling associations that sprang up.  Writing about Kenya in the 1950s, Negley Farson said: "Kenya has some trout streams that make you thankful just to be alive on the day you are fishing them.  No visitor to that majestic part of the world should fail to take his rods with him.  If he does, he will miss one of the most exhilarating experiences that the colony can offer."
[With thanks for information from an article sent in by Penelope (Megson) Deubel written by her uncle TL Hately. The article first appeared in Chambers's Journal in 1955. Chambers's Journal was a magazine founded by William and Robert Chambers, published in London in the 19th and 20th centuries. Its full title was initially Chambers's Journal of Popular Literature, Science, and Arts, but the longer title was eventually dropped. The first issues of Chambers's Journal were published in 1854. The final issue appeared in 1956.]