What Happened to the Education of European Children in World War 2 in Kenya?
Hazel MacGregor (née Kempton, of K Boat Yard in Mombasa) remembers the day war was declared in 1939, when she was ten years old. The European Grocery Shop in Mombasa was run by a German couple – the Von Rittens, who had left Germany because they were not supporters of Hitler. After being rounded up, Germans above military age were sent back to Germany. This greatly distressed the Von Rittens, who had no warm clothes. They were given clothes by Hazel's mother and off they went, only for Herr Von Ritten later to be executed by the Nazis. Because Mombasa would be vulnerable from Italians in Abyssinia, the government arranged for upcountry farmers to host coast families, and Hazel was evacuated to a farm on the slopes of Mount Menengai. But a few weeks later the government decided it would be safe to return to Mombasa, and the children duly went back home.
An underground trench was built in Hazel's home, in case of Italian air raids. Air raid sirens were installed and air raid drills practiced. But the government changed its mind yet again and evacuated children upcountry. This time Hazel went to a farm near Nyeri, belonging to the Hendersons, whose son Ian later became prominent for his undercover work for the security forces. There were also air raid shelters and siren practices in Nairobi. In September 1939, immediately after the outbreak of war, pupils started school two weeks' late, and helped to dig trenches. Children were not immediately evacuated from Nairobi but when Italy entered the war in 1940 Nairobi boarders were sent upcountry, 100 boys to Naivasha, where they lived in Sparks Hotel (later known as the Lake Hotel), and the Kenya High School girls to Eldoret, where they stayed at the Eldoret Hotel. The KHS boarding block in Nairobi was turned over to the WAAFS, who erected extra corrugated iron buildings, while the Prince of Wales school at Kabete became a military hospital. 'Just after tea on 17th June 1940 … an army doctor and a bevy of nurses arrived demanding not less than fifty beds the same night for the wounded or convalescent soldiers. In spite of the shortness of notice half the boarding block was handed over that evening; ten convalescents arrived the following day. The military octopus having grasped the School in its tentacles then squeezed again and demanded the tuition block and so a stage in the life of the school came abruptly to an end.' (Impala, 1952). 'At Naivasha the Public Works Department had run up temporary classrooms made of sisal poles from a neighbouring estate. Temporary cooking arrangements had also been made, and a well had been dug to provide water for washing and cleaning. An ox cart with a large zinc coated tank went daily to Naivasha, about three miles away, returning with water for drinking and cooking.  Playing fields, rather primitive and uneven, were laid out and a few matches were played with teams from military camps. Three or four rowing boats were available but the water in the lake was not clean enough for swimming. Food was ordered in bulk from Nairobi and sent by rail to Naivasha and there collected by the School lorry. We were not completely cut off from civilization and we had a number of visits from parents.'  (Old Cambrian Society website)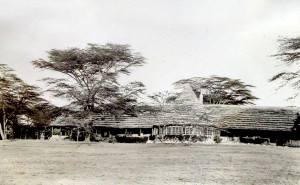 Sparks Hotel in Naivasha
However, day pupils were not evacuated – presumably their parents could drive them away if danger threatened. The Prince of Wales dayboys had joint lessons with the day pupils of the Kenya High School, upstairs at Nairobi Primary School. The school was protected by barricades and sandbags. Following the defeat of the Italians, in the Christmas break at the end of 1941, all Prince of Wales pupils returned to their own buildings in Kabete. The Kenya High School boarders also returned to Nairobi, to their school on the top floor of Nairobi Primary School. The head of the Kenya High School was Miss Grace Kerby, a disciplinarian who forbade girls to speak to their brothers in Nairobi Primary School, which shared their building. She was replaced in May 1942 by Miss Janette Stott, more approachable than Miss Kerby. Miss Stott got the girls to knit long white operation stockings for the troops.