Who began the Kakamega Gold Rush in the 1930s?
A tall, bony American set forth from Eldoret with his wife in an ancient Ford in 1930, with two other Europeans and five Africans, on a prospecting expedition to northern Tanganyika, after the price of maize had fallen and their farms faced ruin. They found nothing, but on the way back they stopped at Kakamega near the Yala river. They thought they might as well pan the river, and to their surprise,they found gold flecks. Quickly borrowing some money, they bought provisions and petrol and started to stake out claims. Thus began the Kakamega gold rush.
Who was this American? We find him, Louis Andrew Johnson, in the 1910 US Census living with his parents and working as a labourer on a fruit farm. Born in Iowa on 23 July 1877, he was now over six feet tall with a shambling walk and ill-fitting dentures that gave him a clamped-jaw appearance and a jutting chin. He had been a storekeeper in the Klondyke in Alaska where he learned to use prospecting pans and earned money by carrying buckets of water to the local brothels (apparently he had to leave hurriedly after a gambling episode).  The fruit farm was not to his liking, so he set out for Kenya and settled on the top of the bluff at Turbo. In those years he would play his violin in Eldoret and he and his wife were excellent hosts before the railway came, though in later years he turned dour. One acquaintance said he only ever heard him utter two words in the bar – 'smoke' and drink' – when he wanted a cigar and whisky, and 'a loud clearing of the back of his nose, followed by a hefty spit and the one word 'Jesus' was his usual comment on most subjects.'  Perhaps this was because of his wife. It was said of her: 'Fanny lived in a state of open animosity towards him and she had a stridence and fluency in vituperation which she exercised on all occasions.' When the difficulties of receiving news of world events in the outback – this was before the days of wireless – were under discussion, someone asked 'What do you do when the weekly EA Standard doesn't arrive?' Mr Johnson's reply was simply 'use grass'.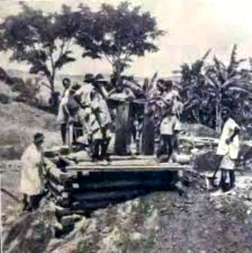 Mining for gold in Kakamega in the 1930s.
Johnson's syndicate had found a large outcrop of gold-bearing quartz reefs in the Kiminini area between the Yala river and Milmo's camp; they acquired an exclusive prospecting licence over a considerable area, some of which had rich alluvial gold. A few months after this initial discovery, there were over a thousand prospectors panning the streams for alluvial deposits and searching the hillsides for reefs. Mining operators from overseas were interested and paid Johnson's Eldoret Mining Syndicate handsomely for their rights. Johnson did very well out of this and even took a trip to England and America, his wife wearing a necklace of gold nuggets. In America he bought a Geiger counter, which he later used to find uranium. On his return to Kenya he bought a small farm near the Soy Club where he played with a spectroscope and other gadgets. He died in Vancouver, Canada on 19 March 1954. He left no family – he and his wife had had a son, but he died as a baby.
www.christinenicholls.co.uk
www.europeansineastafrica.co.uk