World War I Battlefield Tour
Taita Taveta August 2014
Part two
Maktau Railway Station and Cemetery
In August 2014 I travelled with my daughter Malindi and a group of Old Africa readers on a tour of World War I battlefield sites. James Willson acted as our guide. After looking at the Commonwealth Graves Cemetery in Voi on the afternoon of our trip to Taita, we spent the night at Taita Salt Lick Lodge.
The next morning we headed on the rough road to Taveta. Our first stop was at the railway station at Maktau. Maktau developed into a large military camp during the first two years of World War I. At the beginning it had to be supplied with water carried on the heads of porters. Eventually a rail line was built all the way to Taveta to carry troops and supplies. The railway station at Maktau continued to serve Taveta until the line ceased operation a number of years ago.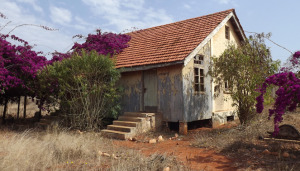 We walked along the rusty rail lines and James Willson stopped several times to examine the imprints on the sides of the rails to show they had been laid back in the time of the Great War.
 Our path led us to a well-kept cemetery with a stone monument in the middle with inscriptions in Arabic and some Indian languages. This cemetery had been set aside to honor the fallen troops from India. It didn't have individual headstones like the cemetery in Voi. We stood and listened as James told us how the war progressed in its early stages and the sacrifice made by troops from India who were hustled to East Africa to provide much-needed manpower.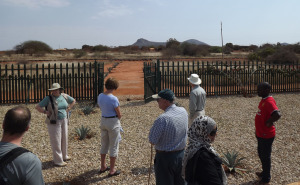 The cemetery provided a clear view of Picket Hill above Maktau as we walked back to our vehicles to bounce along to our next stop – Salaita Hill.