Firebrand Editor of the Kenya Press:
Harold George Robertson ('Rab the Rhymer')
From the age of ten in the 1950s I was an avid daily reader of the Mombasa Times and loved its crossword. So I was very interested to come across some details of one of its former Editors, Harold George Robertson, or 'Rab the Rhymer'. He was a Scotsman, born on 3 January 1884, probably in West Kilbride, Ayrshire, the son of William and Martha Robertson. He went to Kenya on 9 August 1912, describing himself on the ship's manifest as an artist. With him went his wife Mrs M. Robertson, eight years older than himself, and three sons – aged six, four and an infant. His elder brother James G. Robertson followed him three months later and as a contractor was responsible (with Gow and Davidson) for the building of the New Stanley Hotel in 1913.
Harold Robertson thrust himself immediately into journalism in Nairobi, joining the staff of the East African Standard and the Leader. This did not satisfy him and he began the East African Tatler and Free Lance, published by the Leader. The Tatler, a satirical magazine without advertisements and containing articles, short stories, poems and cartoons, all of them composed mainly by Robertson, did not continue after the outbreak of World War 1 in August 1914.
Harold joined the armed forces, serving in the East Africa Pioneer Company, East Africa Supply Corps and East African Ordnance Department, earning the British War Medal and the Victory Medal. Yet his journalistic instincts remained with him during the war and he contributed poems to Reveille and began the Morogoro Trumpeter. This was published monthly on a duplicator. 'What with the continued lack of ink and paper,' he complained, 'stencils that are almost unobtainable with the added trials of heat melting the wax, sand and dirt adhering to the gauze, ink coagulating or drying up, our plight is frequently to be pitied.'
The name changed to the Dodoma Trumpeter and then just Trumpeter, and the magazine continued from January to August 1918. It was full of camp gossip, anecdotes and sketches; the June 1918 edition shows a cross-looking Robertson and the artist Jack Leith in its editorial office. Any profits went to buying a piano and sporting gear for the troops.
After he was demobbed Robertson joined the Leader, but left in 1922 and joined Ronnie Stevenson in starting a publication in Mombasa called the Outlaw which indulged in 'sapient sarcasm; cheery cynicism.' With Robertson as its sole contributor, this lasted only three months (February-April 1922) and was incorporated in yet another new publication, the Kenya, Tanganyika and Uganda Critic, which moved to Nairobi. Now Robertson, who composed almost the entire journal, was in his element, sniping at officials, the government and his pet hates, Ewart Grogan ('a silver-tongued orator, a log roller and axe grinder') and Lord Delamere. He resented and relentlessly satirised the large, patrician landowners of Kenya. He described Nairobi society as 'shallow, hypocritical and gossiping.' Really he was a middle-class liberal at war with the conservative landed aristocracy.
In the first issue he said he would present a cake to the man who uttered the most outstanding or stupid remark of the week. The first three cakes went to the Governor, the Mayor of Nairobi and the Director of Public Works. Robertson lived in Lenana Road, Nairobi, with his wife Marjorie Cecilia, a stenographer, but after the Critic folded on 14 January 1923 he was declared insolvent (Kenya Gazette, 7 October 1925).
He moved to Mombasa as Editor of the Mombasa Times. From this he was sacked for his vehement opinions and in 1934 he joined with Sir Ali bin Salim and others to found the Coast Guardian. This folded after four years and Robertson retired to a small house in Tudor, from which he ran a news agency. When World War II broke out he was asked to return to the Mombasa Times, where he worked with Edward Rodwell, who lamented that the old fire had gone from him.
Robertson developed a gallstone, went to Nairobi for treatment but died there on 3 July 1941, aged 57. His ashes were buried in Mbaraki cemetery, Mombasa, on 10 July. His gravestone reads 'In loving memory of Harold George Robertson, RAB, his life was gentle and the elements so mixed in him that nature might stand up and say to all the world this was a man.'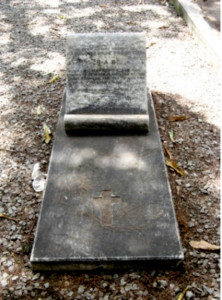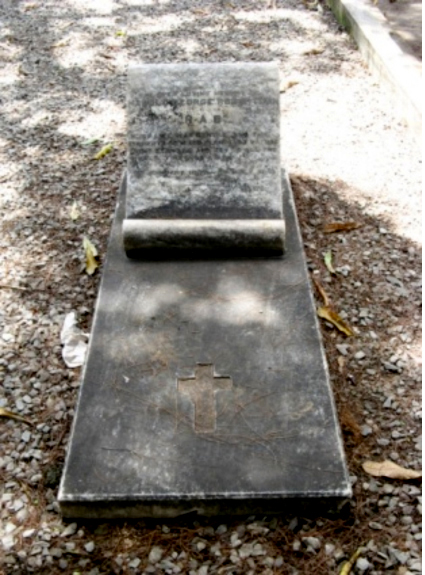 Harold George Robertson's grave in Mbaraki.
This may seem incongruous for such a firebrand, and yet his poems, for which he was known as 'Rab the Rhymer', appeared ubiquitously in Kenyan publications and were often most sensitive.
Here is an extract from one about Fort Jesus:              
I walk the aisles of history, immortal walls of yesterday,
Proclaiming from your parapets the gallant days of yore.
The wonder and the fame of you, the thunder and the name of you,
Oh! Valorous the claim of you, scarred rock of blood and hoar.
O! Jesus, Fort of many fights, of carnage days and deadly nights,
Your grim walls stand today, a sermon and a moral, too,
Of what man's brutal lusts may do, of doughty deeds and valour true.
(For those who wish to read about Robertson's views propounded in the Critic, see Theodore Natsoulas in International Journal of African Historical Studies, vol.5, issue 4, 1972, pp. 610-628)